The advances in varietal research and the correct treatment of the product on the shelf have caused an important growth in the demand for fig plants. Viveros Hernandorena is a specialist in this crop.
By Marga López, agri-food journalist (@ Margalopez77)
Fig In the last decades, research centers such as CYTICEX and IVIA (ELCHE) have been carrying out a great job of selection, varietal characterization using microsatellite-type molecular markers, varietal and clonal conservation, obtaining new varieties and improving techniques of fig cultivation.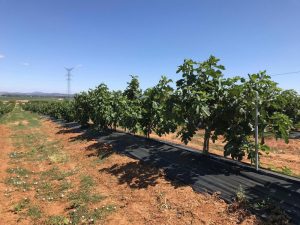 All this research work has led to an increase in the professionalization of this species for the agricultural sector with a commercial focus. And this has created new opportunities for many agricultural projects.
Parallel to this development in the field, the shelves have been incorporating this fruit in their shelves. With a well presented and worked product, consumer demand for figs has grown exponentially.
As a consequence of all this, in Hernandorena, as a nursery specialized in the production of fruit trees for the agricultural sector (stone fruit, almond, pomegranate, kaki, quince and fig), they have registered an increase in the purchase of fig plants (Table one). "We have increased our productions of fig plants to meet customer demand," says Rosa Hernandorena, commercial director of Viveros Hernandorena.
Now, the objective of this nursery is to maintain annual productions ranging between 20,000-30,000 plants according to years and projects, positioning itself in the market with a quality plant.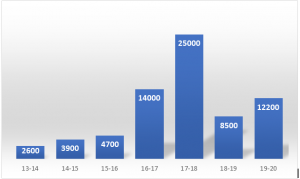 Mother plant fields
Viveros Hernadorena currently has two mother plant fields. One of plant material with initial sanitary quality of the fig tree from the CYTICEX germplasm bank. The other is made of CAC quality material from the IVIA germplasm bank and a particular survey of varieties from Mallorca.
"The two fields are separated with a sufficient safety distance according to the regulations to maintain their sanitary quality," describes the commercial director. Currently they have 23 varieties in the mother plant. "On our website you can see the different varieties that we multiply," he adds.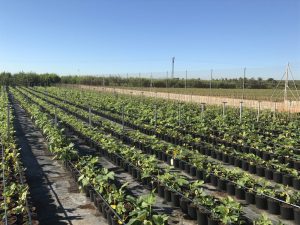 Multiplication process
During spring, they multiply the fig plant by means of cuttings and are planted directly in alveoli with paperpot. This system improves the root system avoiding curling and facilitates planting for transplanting to a larger format.
The plant is sold in a 1.5-liter C14 container. It is a pot specially designed for proper root development. It has internal grooves that prevent curling of the roots and a mesh bottom to improve drainage and avoid puddles. The plant is presented with a 90 cm tutor to guide it straight from the start. From September the finished plant can be served with a height of 80-120 cm.
The pot plant has the advantage of being able to be planted in the field during the time of year that most interests each client.
https://ecomercioagrario.com/wp-content/uploads/2020/07/img_3483.jpg
750
1000
Redaccion2 ECA
https://ecomercioagrario.com/wp-content/uploads/2020/05/ecaesp.jpg
Redaccion2 ECA
2020-07-06 08:20:09
2020-07-06 08:20:09
The fig tree, a growing crop by specialists