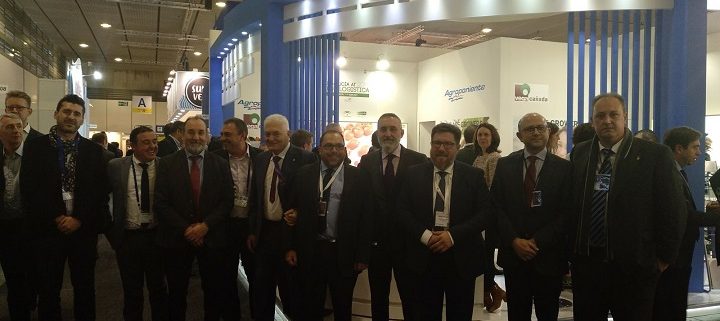 The stand of Grupo Agroponiente (Agroponiente y Vegacañada) in Pavilion 8 of Fruit Logística 2018, in Messe Berlin, has served as a meeting point not only for visitors, clients, and potential commercial contacts, but also for representatives of different institutions. Thus, various local, provincial and regional offices have passed through the exhibition space of the company to be interested in their project and to know first-hand the characteristics of their plans in the short and medium term.
Both the Minister of Economy, Antonio Ramírez de Arellano, and the Minister of Agriculture, Rodrigo Sánchez Haro, visited the stand of the Agroponiente Group, accompanied by the Government delegate of the Board in Almería, Gracia Fernández; the one of Economy, Miguel Angel Tortosa; and that of Agriculture, José Manuel Ortiz. The vice president of Grupo Agroponiente, Francisco López Martínez, has been in charge of receiving these institutional visits, along with other members of the company's management structure, with whom the institutional representatives of the Andalusian regional institution have spoken.
There has also been representation of the Provincial Council, headed by the deputies of Agriculture, María del Mar López, and Culture, Antonio Jesús Rodríguez. Similarly, several municipalities have had representation in the Group's exhibitor, such as the mayor of Almeria, Ramón Fernández Pacheco, in the company of councilmen Manuel Guzmán and Juan José Segura, this one of Agriculture; or the councilor of Agriculture of El Ejido, Manuel Gómez.
In his assessment of the second day of this event, which was held from February 7th to 9th in Berlin, the vice president of Grupo Agroponiente, Francisco López Martínez takes stock and points out that "it is always positive that our institutional representatives are interested in the activity of the first productive sector of the province. It is undeniable that institutions and private companies must walk hand in hand to achieve projects and to achieve interests and objectives that are common to all. Of course it is to be grateful for that interest and that this is reflected in visits such as those we have received at our stand".
Source: Agroponiente Group

http://ecomercioagrario.com/wp-content/uploads/2018/02/180208_agroponiente-en-fruit-logistica-jpeg_red.jpg
540
720
Redacción ECA
http://ecomercioagrario.com/wp-content/uploads/2015/09/logo1.png
Redacción ECA
2018-02-08 11:42:24
2018-02-12 13:46:00
The stand of Grupo Agroponiente in Fruit Logística, scene of a high institutional activity