Cuna de Platero has inaugurated the fourth edition of its food education program "Fresayunando. Healthy breakfast of Platero Cuna "in which more than 2,500 children from different schools will participate.
In the words of the president of the cooperative, José Manuel Márquez Gil: "It is an initiative already consolidated with which we transfer to students the importance of having a healthy diet, exercising and the consumption of fruits and vegetables, among which they charge a special protagonism our red fruits ".
With the collaboration of Cajamar Caja Rural, Cuna de Platero takes this educational program to five schools in Moguer and its surroundings: Pedro Alonso Niño, Virgen de Montemayor, Zenobia, San Juan Bautista and Las Salinas Children's School. "Our intention is that from small value the importance of having a good diet, where fruits have a prominent place. This will strengthen your health, "said Marquez. Fresayunando is also aimed at the educational community and parents, "so that what we teach today goes further and stays in their classrooms and in their homes."
In addition to the talks, the children receive teaching units – adapted to the age of the student – with which through its protagonists – Teresa the strawberry, Fernando the blueberry, Flora la mora and Adelita the raspberry – discover the healthy properties of these fruits. As well as a cookbook of healthy dinners, a backpack and school supplies.
At the inauguration, which took place at the Pedro Alonso Niño de Moguer school, its director, Manuel Fernández, and the person in charge of the Growing in Health program, promoting healthy lifestyle habits in Andalusian teaching centers, Aurora González; the coordinator of the Fresayunando program, Mª Ángeles Batista; and the director of the office of Cajamar Caja Rural in Moguer, Rocío Domínguez.
This initiative will be developed throughout the month of May and is one of the actions of Social Responsibility of the cooperative with its social, environmental and economic environment.
YOU MAY ALSO LIKE: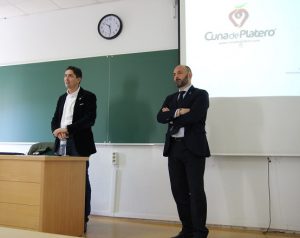 https://ecomercioagrario.com/wp-content/uploads/2018/05/cuna-fresayunando02.jpg
667
1000
Redacción ECA
https://ecomercioagrario.com/wp-content/uploads/2020/05/ecaesp.jpg
Redacción ECA
2018-04-27 13:55:14
2018-05-05 18:38:30
Cuna de Platero brings the fourth edition of its food education program "Fresayunando" to 2,500 children