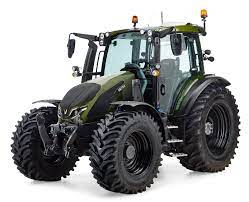 The iF Design award is one of the most prestigious design awards in the world and the Valtra G135 has won the product design award in the vehicle category.
Launched last year, the new Valtra G Series continues to receive accolades. The G135 was the only tractor awarded at this year's iF Design competition. Jurors praised the G135 as the most complete set in its category. Earlier this year, the G-series also won the 2021 Red Dot Design award at the Red Dot: Product Design Awards with the same G135 model. "I have to say that winning the disputed iF Design award with the new Valtra G135 is truly incredible.
Never before has the same machine managed to win an award in both design competitions, the Red Dot and the iF, and that is precisely what happened on Valtra's 70th anniversary, and it was undoubtedly the icing on the cake "comments Kimmo Wihinen, director of industrial design and user experience at Valtra.
The jury found the G135 to be particularly innovative in the design area, standing out from the crowd and reinforcing the Valtra brand. The Valtra G Series is a little giant, a multitasking tractor that can be handled comfortably and with which any job can be done effortlessly.
The G Series is a combination of compact size and agility. Its design makes it the perfect tractor for front loader work.
The tractor's ease of use also received a lot of praise from the jury. "It was also especially satisfying that the jury not only praised the successful and unique design of the G Series, but also its functionality.
At the end of the day, these are machines designed to work, and we really pay a lot of attention to the ease of operation and their efficiency at work, which are also of great importance in the life and daily work of our customers. For example, the sloping nose, curved front semi-chassis, large panoramic roof and user-friendly interface are not just design issues, but above all, they help make the front loader tractor agile, compact and productive, "says Wihinen. underlining the importance of design.
Immediately after its launch in 2020, the G Series was named Tractor of the Year 2021 (Tractor of the Year 2021). The tractor cab features another award-winning armrest design, Valtra's SmartTouch, which has already been awarded the Red Dot and iF design awards.
The winners of the iF Design Award have been chosen by an international jury of 98 high-level design experts. This year's contest featured 9,509 nominations from 52 countries.
https://ecomercioagrario.com/wp-content/uploads/2021/05/descarga.jpg
202
249
Redaccion2 ECA
https://ecomercioagrario.com/wp-content/uploads/2020/05/ecaesp.jpg
Redaccion2 ECA
2021-05-10 08:02:16
2021-05-07 09:55:05
Valtra awarded again, G135 wins iF Design award