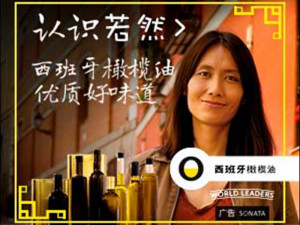 A campaign in digital media with a duration of one year. Try to enhance the image of our oils, also linking them to our cuisine, culture and lifestyle in the United States, Japan and China. Real members of the American, Japanese and Chinese community living in Spain have been chosen as prescribers of the product.
Social networks are currently one of the most massive and dynamic communication channels worldwide. It is estimated that there are almost 200 million users in the United States. In China, only Weibo has a community of more than 340 million. Undoubtedly, this channel is nowadays fundamental to make our messages reach consumers worldwide.
With that objective the ambitious promotional campaign "The Taste of Maximum Quality" was born, which, over the next twelve months, will work to promote the Olive Oils of Spain in the United States, Japan and China. A choice that is not accidental since these three countries are our main clients outside the European Union. Together, they acquire almost 20% of the olive oils we export.
A very innovative campaign starring real characters has been designed. What is proposed to consumers is an approach to our oils, gastronomy and Spanish culture through the eyes of Borja, an American illustrator, Hiroshi, a Japanese chef, and Rouran, a Chinese language teacher, all of them based in years in Spain. They tell their experiences, their approach to our gastronomy and the central role that olive oils play in our daily diet. But, above all, what they manage to convey is their love for Spain and for who we are.
The objective is to increase the consideration and purchase intention of Olive Oils from Spain, highlighting the quality and differential characteristics of this product, so that the consumer of these three markets identifies Spain as a world leader in this sector and that its oils are perceived as the best purchase option and the highest quality in the world. In passing, the image that these consumers have of our country is reinforced.
For this purpose, several video pieces have been designed, in which we will be able to know more about the adventures of our protagonists in Spain, to know their families or how they faced for the first time the challenges posed by our gastronomy. The campaign is based on the web pages we have in those markets, where the consumer can know everything about the product, interact and learn how to use it in their kitchen.
This new campaign reinforces the actions that Olive Oils of Spain has been carrying out since 2018 in these countries through the "Olive Oil World Tour" initiative, a program co-financed by the European Union.
https://ecomercioagrario.com/wp-content/uploads/2019/09/aceite-1.jpg
225
300
Redaccion2 ECA
https://ecomercioagrario.com/wp-content/uploads/2020/05/ecaesp.jpg
Redaccion2 ECA
2019-09-20 11:58:51
2019-09-20 13:03:05
Aceites de Oliva de España promotes a digital campaign to reach new markets