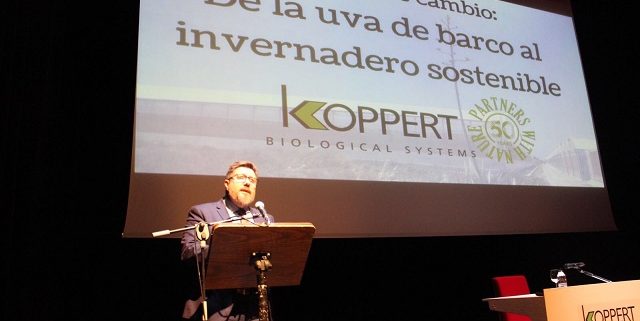 The Minister of Agriculture, Fisheries and Rural Development of the Junta de Andalucía, Rodrigo Sánchez Haro, has highlighted the important contribution of Koppert Biological System to a more productive and sustainable agriculture, during the inaugural session of the commemoration of the 50th anniversary of this entity multinational in the field of biological control of crops.
According to Sánchez Haro, "the change of the physical environment, market trends and research" to ally with nature in favor of our crops "over the last 50 years have profoundly transformed our agriculture into a highly profitable model" and increasingly sustainable". This tendency of the producers responds to the rise of a social conscience that, as Sánchez Haro has explained, "not only takes into account the economic aspects, but also the natural resources and their management".
Koppert has an R & D center in the Almerian town of Ejido that, as the counselor said, is "essential to be at the forefront of biological solutions and maintain its commitment to the environment and biodiversity." It is "initiatives that we share from the Ministry of Agriculture and have materialized, for example, through the various collaborations of Koppert and the Institute of Agricultural Research and Training and Fisheries of Andalusia (Ifapa)," he said.
Environmental respect
In his speech, Rodrigo Sánchez has emphasized that Almeria is a benchmark in European markets for the quality and sustainability of its products. The counselor explained in this regard that, despite Almeria's potential, "there are many threats that we must face, such as climate change".
Last July a report was published by the United Nations that proposes to follow the guidelines of Almeria's agriculture as the best way to feed the population in an adverse climate environment
Among the "main signs of identity" of Andalusian agriculture is, in fact, its commitment to biological control. In total, the autonomous community exceeds 25,000 hectares under this method of control against plant pests and diseases with which food security, sustainability and product quality are reinforced. In the case of Almeria, it is expected that in the current campaign 2017-2018 this extension will reach 24,400 hectares, a surface area in which the one dedicated to pepper (10,520), tomato (6,380) and cucumber (2,950) stands out.
Biological control techniques use living organisms to control other populations that limit crop production. This method, which is used both in protected crops and in the open air, has numerous advantages against the use of plant protection products, among which the practice of nullity of collateral harmful effects towards other organisms and resistance of pests to these techniques stands out. In addition, long-term control is achieved, avoids secondary pests, does not generate toxic waste and the cost-benefit ratio is very favorable.
About the company
Koppert Biological Systems is a multinational company of Dutch origin created in 1967 and with a presence in 80 countries.
This entity is a reference in biological control of crops, facilitating the necessary means to combat plant pests and diseases through mites and predatory insects or parasites of the agents that attack plants
Also, these sustainable techniques also opt for natural pollination with bumblebees. This company has, worldwide, 1,200 employees, exports to 90 countries and reaches a global business volume of 190 million euros per year.
Since 1994, it has the Spanish subsidiary Koppert España S.L., with offices in Murcia, the Canary Islands and Andalusia (two centers in the province of Almeria and one in Seville). This entity has 93 employees, of which 71 correspond to jobs in the Autonomous Community of Andalusia; and reached 20.6 million euros of turnover in 2016. According to forecasts, for this year they expect to exceed 23 million euros.
Among the products that Koppert sells are macrobiological elements such as, for example, bumblebee hives or insects for selective release. They also sell microbiological products, among which are fungi, bacteria and other beneficial microorganisms to recover soil biodiversity.
Source: CAPDER
YOU MIGHT ALSO LIKE:

http://ecomercioagrario.com/wp-content/uploads/2017/12/171204_Koppert_Sánchez-Haro.jpg
427
640
Redacción ECA
http://ecomercioagrario.com/wp-content/uploads/2015/09/logo1.png
Redacción ECA
2017-12-07 07:44:28
2017-12-07 07:44:28
Sánchez Haro highlights the contribution of Koppert to a more productive and sustainable agriculture