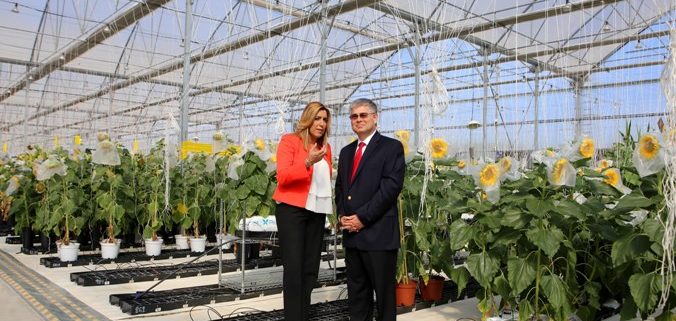 Coinciding this year with its 90th anniversary, the firm Du Pont Pioneer has recently opened in La Rinconada (Sevilla) the most advanced Technology Centre Research in crops of Europe's and the only of Spain, whose construction have invested about 9 million euros and it has the largest area of greenhouses in the world devoted to research sunflower (10.000 square meters).
This area of greenhouses is equipped with the latest technology cooling, heating, drip irrigation technology and extension of day length, located in the area of greatest accumulation of annual solar radiation in Europe.
In the words of Vice President of DuPont Pioneer, Alejandro Muñoz, "this center is further proof of the strong commitment to farmers, in research, it has taken this company, a concept that is allocated annually over 1,000 million dollars" .
One of the main objectives of these facilities is to help its clients increase revenue and solve security problems in crops
The techniques developed in La Rinconada allow DuPont Pioneer provide Spanish farmers and worldwide products and technologies that best suit their needs and those that get the most benefit.
The vice president of DuPont Pioneer, Alejandro Muñoz, who inaugurated Technology Center Multicultivo Research, together with the President of Andalusia, Susana Diaz, said that although its research will focus on the sunflower, also studies will be conducted on other crops such as maize and rapeseed. Also they participated in the opening ceremony the mayor of La Rinconada, Javier Fernández, and Abelardo de la Vega, director of research sunflower DuPont Pioneer.
The advanced technological capabilities of this center will allow Pioneer to double the rate of increase in yield of varieties sold to farmers and increase the range of defensive character of its products Pioneer Protector®.
Equipped with what is arguably the largest network of technical specialists from Europe, and as pointed out by Alejandro Muñoz, one of the main works to be developed in this center will be  transform an intensive crop as is the sunflower in one of greenhouse, to accelerate the process, handling more crop cycles per year". Apart also incorporates facilities dedicated to the study of pests and diseases in crops. Therefore, thanks to this center in Seville edge research, strengthens our position in the markets being Europe our main market for sunflower".
Once fully operational, the Technology Research Center will promote the generation of more than 150 jobs, direct and indirect
For her part, the president of the Andalusian Government, Susana Diaz, stressed the importance of research, development and innovation (R + D + i) in the food industry to "increase profit margins and retain value added". In her view, this technology center opens a "window of opportunity in a field where Andalusia has much to say and will remain cutting edge", with 18 research centers and 1.200 hectares for experimental farms, assigned to the Institute of Research and Training Agriculture and Fisheries (IFAPA). In fact, as has assured Diaz, Andalusia is the community with the highest number of research centers dedicated to food and agriculture, a total of 91, with 1.600 professionals  from this sector.
For Diaz, "the excellent training of its professionals and the strength of the food industry in the community, by the good climate of Andalusia, have led to the installation of this Dupont Pioneer Center in La Rinconada". She also recalled the fact that Andalusia is a great power in the food sector, contributing a quarter of the national agricultural production.
Innovation and development
The Technology Research Center Multicultivo DuPont Pioneer also has 700 m2 of laboratories equipped with the most advanced equipment, where research on diseases and parasites that affect sunflower and embryo rescue will be made.
A research program will be established in the use of exotic germplasm to improve both resistance to environmental factors that affect the performance of sunflower as adaptation to different production systems
Among the technologies that are already operating in the center include the accelerated Inbred development, accelerated conversion of lines to various characters (in both cases using embryo rescue) and accurate characterization of resistance to broomrape (Orobanche Cumana) and various fungal diseases.
Pioneer has more than 35 years producing and selling hybrid sunflower seeds high quality and performance to European farmers. In cooperation with Pioneer research centers in Europe and the rest of the world, the Technology Center of Seville will focus on significantly accelerate and make more precise the process of development of sunflower varieties. These advanced technologies that improve both speed and accuracy of the processes of genetic improvement will also apply to other crops.
The new Research Center of Seville will also allow Pioneer to offer the most advanced level in terms of genetics to pests and diseases as broomrape, powdery mildew, verticillium, rust and other pathogens resistance.
Sunflower addition, in this new Technology Center, DuPont Pioneer is evaluating water stress tolerance of its corn hybrids brand Pioneer®
There are several mechanisms that contribute to improve drought tolerance and the main objective of the company is to incorporate a broad base of native characters to provide stable returns to its customers. Optimum® AQUAmax® hybrid brand of Pioneer® contain specific native characters that improve the efficiency of water spending corn under stress from lack of moisture and gives farmers greater stability and better performance under water shortage .
Source: DuPont Pioneer
https://ecomercioagrario.com/wp-content/uploads/2016/09/Inauguración-Centro-Multicultivo-de-DuPontPioneer.jpg1_.jpg
408
676
Redacción ECA
https://ecomercioagrario.com/wp-content/uploads/2022/01/banner-eca-ing.jpg
Redacción ECA
2016-09-27 13:52:26
2016-09-27 13:52:26
Sevilla hosts the largest sunflower greenhouse area in the world for R & D