Siete Agromarketing and eComercio Agrario, promoter of the project, have celebrated the delivery of the III Woman Agro Awards in Mercamadrid in hybrid format, in recognition of the agri-food sector during the current health crisis. The awards went to Carmen Rodríguez Rodríguez (Cooperativa CLUN), Isabel Vicens Gelabert (Grupo Agromallorca), Món Orxata, Antonio Aparicio Peña (Grupo Pastores Cooperativa) and Raquel Santiago Moya (AMCAE Andalucía).
Epicenter of the Agrifood Sector
Sandra Sutherland, agri-food journalist, RTVE journalist, opening the ceremony with Ainhoa García López, Mercamadrid's Director of External Relations, who thanked Mercamadrid for have been chosen for this event. "Feel at home because it is, because it is a nerve center where food converges every day and every night so that it reaches all homes, a place that has played a decisive role, even more so, during the pandemic." For "us it is very special that you have chosen us and we hope it is not the last time".
Gissèle Falcón Haro, Director of Siete Agromarketing, thanked companies for their commitment to supporting agri-food equality projects. During her intervention, she has valued the AGRO Woman project, which is firmly committed to agro-professional women, for their needs and demands, advancing towards real equality. This third edition of the Awards "thrills" at a time when "more than ever we have to bet on the recognition of many women who go unnoticed in their work as leaders." We must "continue working" for this empowerment of women, their visibility and to end the wage gap that, worldwide "stands at 16%", which means that "workers earn on average 84% of what men earn ", recalled Gissèle Falcón.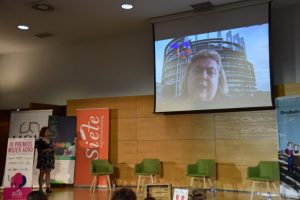 Clara Aguilera García, European Parliament, closed this inaugural act, recognicing the importance of continuing to advance in equality. She has participated from Brussels, where precisely the future Common Agricultural Policy (CAP) is being configured, on which the MEP has emphasized. "In the next CAP, women take on a real role." Not surprisingly, she explained that "despite the fact that much was said about the Green Pact, a agriculture that is more respectful of the environment or of social conditionality, issues that have been present in the debate, are also those that refer to women and the gender perspective ". In this sense Aguilera has affirmed that "the Principle of Gender Equality, for the first time, has been incorporated into the articulated text of the Regulation of Strategic Plans of the PAC". With this, Aguilera has assured "it must be guaranteed that the work of women is more visible, more appreciated and taken into consideration in the specific objectives that the member states must propose in the development of their strategic plans of the CAP." With this, "there is a very considerable qualitative leap", has valued Clara Aguilera.
"Equality Policies: advertising claim or real conscience"
Prior to the delivery of the awards, we attended the gathering "Equality Policies: advertising claim or real awareness", which was attended by Esther Solaz San José, Business Marketing Large Accounts and Brokers from Caser Seguros, who assured that progress has been made in recent times, that "there is still a lot to advance," but that we are on the right track. Esther Solaz shared with the attendees the example of the initiative that 13 women from Caser Seguros promoted for this value from the female point of view within the company. It is TALENTA, an initiative based on four pillars (human capital, positioning, networking and culture).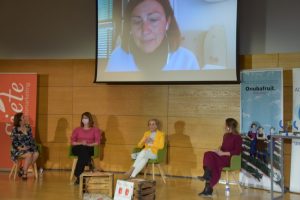 Nuria Mª Arribas Vera, Director, INLAC- Lactea Interprofessional Organization, has pointed out in this debate that the pandemic has generated a delay of 36 years in the goal of reaching parity as indicated in a study prepared by the World Economic Forum. "This pandemic, in terms of equality, has affected more women and children," said Nuria Mª Arribas. "During the pandemic, women have dedicated 62 hours a week to caring for their children, while men have dedicated 32 hours. In the case of housework, the woman has dedicated 23 hours, for the 15 hours that the man has used ".

For his part, Jerónima Bonafé Ramis, President of Agro-alimentary Cooperatives of the Balearic Islands, Secretary of the Governing Council of Agro-alimentary Cooperatives of Spain and Vice President of the COPA-COGECA Women's Working Group; Among other issues such as the visibility of women, the progress that has been made, encouraging us to continue working in this fight, has wanted to publicly denounce the digital divide that still exists, which puts equal opportunities in the rural world.
Finally, Mª del Carmen Quintanilla Barba, National President of AFAMMER (Association of Families and Rural Women), Honorary Parliamentarian of the Council of Europe and Vice President of the European Union of Older Persons of the PP. "Equality is a right, not a value." In Spain, equality, explained the National President of AFAMMER, "is linked to our Law of Laws", referring to the Constitution, which "broke all forms of discrimination that women suffered then". For Mª del Carmen Quintanilla, the discourse of equality is "the discourse of social justice, equity, the advancement of democracy and countries in freedom." In her speeches, she addressed issues such as visibility, the necessary cooperation between men and women to advance equality, or shared ownership, which in her opinion "as the data shows, with only 750 co-ownership or ownership registered by women, the law has lacked political impulse, because they have not believed it ".
Awards for Agrifood Equality
Once the gathering was over, continued to the III Agro Woman Awards. The III Agro Woman Award, in the Woman category, was to Carmen Rodríguez Rodríquez, vice president of Cooperativas Lácteas Unidad (CLUN). The jury wanted to highlight her outstanding work in a sector such as livestock, in which women have a great presence but little visibility.
After her intervention, Juan Gallástegui, the Regional Minister of Rural Affairs of the Xunta de Galicia, José González Vázquez, also wanted to congratulate her through an emotional video.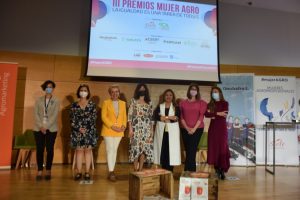 The III Agro Woman Award in the Entrepreneurship category went to Isabel Vicens Gelabert, from Grupo Agromallorca. The Jury highlighted how this social economy company has known how to revalue a local product such as Tomàtiga de Ramellet de Mallorca and extend its commercialization nationally and internationally.

In addition to the applause of the attending public, Isabel Vicens Gelabert received the video from the Minister of Agriculture, Fisheries and Food of the Balearic Government, Mae de la Concha, who has shown the pride of having businesswomen like Isabel.
In the AGRO Women Company category was Mon Orxata, receiving the award from its general director, Yolanda Morán Gallén. With an online sale of tigernut and natural horchata project, Yolanda Morán has promoted a model based on 'fair trade', betting on gender equality. In Mon Orxata, 90% of the workforce is made up of women over 45 years of age, in many cases with problems of social exclusion.
Antonio Aparicio Peña, Director of Human Resources and Corporate Social Responsibility of Pastores Grupo Cooperativo, has received the III Agro Woman Award in the Man category, betting on initiatives that make women visible throughout the value chain and that highlight their presence in management bodies. As a more immediate project, and after more than 10 years of actions in favor of agricultural women, he wishes to create the Extraordinary Women Group, in which 30 cattlemen will be tutored, advised and accompanied, to enhance their role and role in livestock.
He ended the delivery with an award in the Youth category. The latter has been for Raquel Santiago Moya, director of the Cooperativa Nuestra Señora de los Remedios (Los Noguerones, Alcaudete, Jaén) and member of AMCAE Andalucía, representative in Jaén. Raquel Santiago has the honor of having been the only woman who held a position on the Governing Council of DCOOP, S. Coop. And. 2nd Grade (Antequera, Málaga).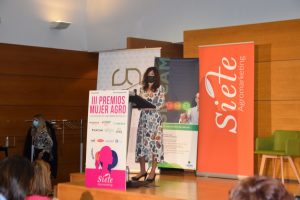 To close, he counted with Rosario Sánchez-Pascuala Sardón, Deputy Director General for the Promotion of Equal Opportunities between Women and Men of the General Directorate of Equality of the Community of Madrid, who thanked the opportunity provided because "it is very important for public administrations listen to you and detect the needs ". It is, Sánchez-Pascuala said, "very gratifying to see how men and women fight together for equality". Likewise, she has stated that from the General Directorate she represents, programs have been launched to solve these needs and promote associationism, as a tool to achieve common objectives in this matter.
The day was actively followed on social networks and live streaming. Under the hashtag #MujerAGRO and #PremiosMujerAGRO, with the participation of more than a hundred users, more than 700 tweets have been reached. This has resulted in the hashtag having a potential impact of more than 2,500,000 views. Through YouTube, more than 100 live viewers stayed connected to the event. During the broadcast, the meeting reached a total of 459 views.
In this third edition, with the participation of companies such as Caser Seguros, Onubafruit, Sakata, Sipcam Iberia, Udapa and UNIQ that have turned in their support to Agro Women by sponsoring this event, which has also had the collaboration of the Agricultural Cooperative San Isidro (CASI) and Vicasol SCA.
Jury
The jury is made up of Gissele Falcón, CEO of  Siete Agromarketing y eComercio Agrario, Jorge Jordana, Patrono Director of  Área Agroalimentaria of  Fundación LAFER, Victoria Moreno, Vice President of  Adjunta de Áreas Científico – Técnicas del CSIC, Jerónima Bonafé, president of Asociación de Mujeres de Cooperativas Agro-Alimentarias de España and AMCAE and Vice president of the Grupo de Trabajo de Mujeres del COPA-COGECA, Nuria Martínez, Director of the Asociación para la Promoción del Consumo de Frutas y Hortalizas "5 al Día", Eduardo Cotillas, Director of  I+D+i  Federación Española de Industrias de la Alimentación y Bebidas (FIAB), Mª Jesús Villamide, Subdirector of Escuela Técnica Superior de Ingeniería Agronómica (Universidad Politécnica de Madrid), Nuria Arribas, Director general of the  Organización Interprofesional Láctea (INLAC),  and Mª Cruz Díaz, President of the Asociación Nacional de Ingenieros Agrónomos.
https://ecomercioagrario.com/wp-content/uploads/2021/04/fotopr1.jpg
700
1050
Redaccion2 ECA
https://ecomercioagrario.com/wp-content/uploads/2020/05/ecaesp.jpg
Redaccion2 ECA
2021-04-13 18:11:31
2021-04-15 13:13:58
The III Women Agro Awards make visible the work towards equality in Andalusia, Aragon, the Balearic Islands, Galicia and Valencia