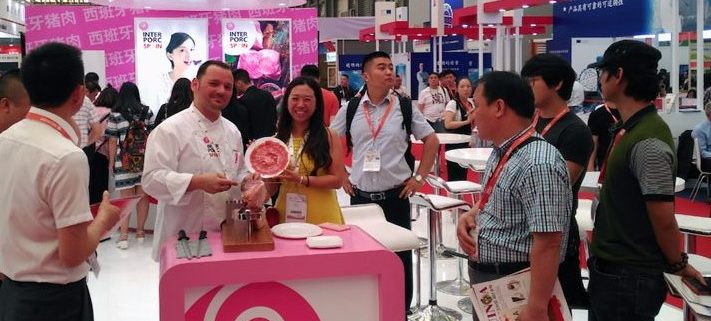 Expo Carnes y Lácteos and Foodex Japan will be the first two events outside of Spain to which INTERPORC will be attending this year 2019 in order to promote the meats and products derived from the white-coat pork produced in Spain.
In the case of Expo Carnes, the event will take place in Monterrey (Mexico), from February 26 to 28 and it is the most important exhibition for the meat and dairy industry in Latin America. It is attended by a large number of exhibitors, suppliers, importers, commercial distribution, agencies, institutions and authorities from Mexico and other countries of the continent.
The Interprofessional Organization has prepared for its participation 2019 a grouped participation with Spanish meat companies in which 8 companies will participate that will be at booth # 1814.
It should be noted that with 128 million inhabitants, Mexico is one of the main importers of pork worldwide. The country has many similarities both culturally and gastronomically with Spain, which facilitates the penetration of Spanish products in this market. Of the total demand of Mexico, only 60% is covered by the national production, which leads to Mexico being the third world importer of pork, after China and Japan, according to the data of 2017, and it has the USA. and Canada as the main suppliers.
During the three days of celebration in the stand of INTERPORC will be developed demonstrations of cutting and tasting of both cured ham and sausages made with white-coated pork. For this, the professional cutter Juan Carlos Garrido will participate, who in 2018 was proclaimed champion of the International Contest of Cutters of White Coat Ham, INTERPORC SPAIN Award, whose final was held last September in Meat Attraction.
In addition, INTERPORC will participate in various institutional meetings during the celebration of the fair with both Spanish businessmen and importers. Also expected the visit of the Minister of Agriculture, Fisheries and Food, Luis Planas.
Just a week later, INTERPORC will move its promotional activity to the Asian continent, specifically to Foodex Japan, which will take place in Tokyo from March 5 to 8. Within the grouped pavilion of the ICEX, the Interprofessional Organization will have a stand (Hall 1, C40.009).
During the four days of the fair, culinary demonstrations will take place from the INTERPORC stand, where the main ingredient will be white meat and pork products.
There will also be demonstrations of cutting and tasting of cured ham and sausages as well as the first edition of the year of the International Contest of Cutters of white coat ham, which will be held on Wednesday, March 6 and in which six cutters of ham will participate.
https://ecomercioagrario.com/wp-content/uploads/2018/05/interporc.jpg
406
711
Redacción ECA
https://ecomercioagrario.com/wp-content/uploads/2020/05/ecaesp.jpg
Redacción ECA
2019-02-19 13:30:48
2019-02-19 12:47:13
Interporc starts its 2019 international promotion in Mexico and Japan