Miguel Abril, Commercial Director of Anecoop has granted an exclusive interview to eComercio Agrario, where he explains how the development of the kaki campaign has been, with a record figure in production for the entity, more than 150,000 tons of tons that have been achieved collect and are marketing thanks to the grouped management of this entity.
By Marga López, agri-food journalist
Initial forecasts pointed to a complete kaki campaign from the point of view of production, but commercially, how was the exercise for Anecoop?
The large increase in production has caused this to be a really difficult campaign for the whole sector. In the case of Anecoop, we have collected 100% of the product from our associates, which we are marketing following our campaign planning.However, the markets have not behaved as we would have liked, especially in the first part of the year, where a disorderly offer has saturated the markets, causing prices well below previous campaigns. Fortunately from the end of November, with the disappearance of a part of the supply and the entry into consumption of kaki in a more important way, the situation has improved a bit, albeit too slowly.
From the point of view of production, what trends do you identify in kaki, will it continue to grow in production in Spain or do you think that we have reached its ceiling from time to time?
The consequences will be verified at the end of the campaign, but in view of what has happened in the field, with plantations that have been left uncollected and prices recorded, it is very likely that the area of ​​kaki cultivation not only does not increase , but may even decrease, especially in areas not optimal for cultivation and in ungrouped farmers.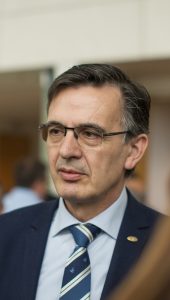 What does kaki represent for Anecoop in terms of turnover?
According to the average of the last three campaigns, that is, 2016, 2017 and 2018, the kaki represents around 12% of our sales volume in tons, a percentage that will increase this year given the significant increase in harvest that we have registered this year.
The kaki is an autumn fruit still unknown in Spain, and in Europe, what volume do they export and to what markets?
We export around 80%, and although our kaki is present in 40 countries, the bulk is directed towards the Central European markets.
Anecoop has developed a strong promotion campaign in Spain, with an important budget, what objectives are marked in this campaign?
Both from Anecoop and the D.O.P. Kaki Ribera del Xúquer, we know that kaki has a long way to go in terms of consumption, especially in the national market where, paradoxically, it is less known than in other European markets. For this reason, we have made an important investment that we believe is very necessary to give this fruit the boost it needs.
https://ecomercioagrario.com/wp-content/uploads/2020/01/kaki-anecoop.jpg
591
1000
Redaccion2 ECA
https://ecomercioagrario.com/wp-content/uploads/2020/05/ecaesp.jpg
Redaccion2 ECA
2020-02-18 13:57:38
2020-02-18 14:13:31
"At Anecoop we have collected 100% of our partners' kaki"