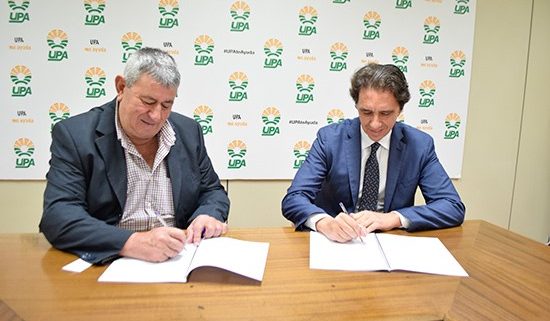 Deoleo and the Union of Small Farmers and Cattle Ranchers (UPA) have signed an agreement with the purpose of reinforcing the quality and traceability in the olive oil sector, identifying all the stages of its elaboration, "from the field to the table". This alliance is the first step to achieve a series of objectives that revert to benefits for the entire sector.
With this agreement is intended, first, to achieve stable relationships between the different entities that make up the production chain of the olive oil sector in Spain
In this sense, the agreement contemplates that the different operators of the chain of production exchange information on the methods of production, transformation and commercialization of the olive oil of Spain, in order to look for improvements in all the processes. Ultimately, the aim is to work together to strengthen the quality and traceability of olive oil.
The agreement signed by Deoleo and UPA will have two aspects, one of communication, to spread the messages that both organizations consider that they should reach the operators of the sector to raise awareness about the need to revalue the category; and another, of formation, with specific days directed to olivicultores of the main producing areas: Andalusia, Extremadura and Castilla La Mancha, mainly.
This alliance is part of Deoleo's olive oil revaluation strategy to reverse the current commercialization model, where price is the main purchasing variable, which implies risks for the category, since the prioritization of the price and prices lower margins discourage investment in R & D, which does not allow differentiation, adaptation to the real needs of the consumer and the commitment to higher value products.
Deoleo is a Spanish food multinational, a world leader in the commercialization of olive oil, with a presence in more than 80 countries on five continents, factories in Spain and Italy and commercial delegations in 15 countries
Deoleo has leading brands around the world, such as Bertolli, the most sold in the US, Carapelli and Sasso; and the Spanish, Carbonell, Hojiblanca and Koipe.
The Union of Small Farmers and Cattle Ranchers is the professional organization that groups, represents and defends the interests of professionals in agriculture and livestock in Spain.
UPA has more than 80,000 members and affiliates and brings together the majority of the agricultural sector: family farms whose owners are small and medium farmers and ranchers
Source: UPA
YOU MIGHT ALSO LIKE:

http://ecomercioagrario.com/wp-content/uploads/2017/11/171108_firma-convenio-Deoleo_UPA.jpg
367
550
Redacción ECA
http://ecomercioagrario.com/wp-content/uploads/2015/09/logo1.png
Redacción ECA
2017-11-08 11:32:41
2017-11-08 11:32:41
Deoleo and UPA join forces to ensure quality and traceability in olive oil