With more than 150,000 persimmon plants and plans to increase this to 200,000, Viveros Hernandorena will be present at this new edition of Fruit Attraction reinforcing its position as the largest producer of persimmon plants in Europe, and with an internal work methodology certified under its seal of Varietal Reliability.
Everything is ready for a new participation of Viveros Hernandorena in the leading fair of the fruit and vegetable sector Fruit Attraction, and it is doing so with important novelties, both on a corporate and product level.
Located in Hall 3 Stand 3E05B, Viveros Hernandorena officially presents its seal of Varietal Reliability, its own certification that endorses its work methodology with which it seeks to offer its customers maximum security when purchasing plant material.
This seal encompasses three key concepts, which in turn involve a very specific internal work system: Varietal authenticity: that is, guaranteeing 100% homogeneity of the plant material that is marketed; Varietal adaptability: the variety is proven and consolidated agronomically and is also stable; and Varietal health: guaranteeing pest and disease control from the initial material to the final sale of the plant.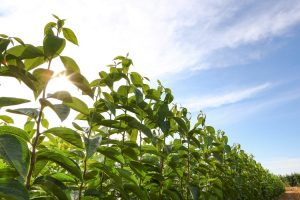 "We want to explain to our clients and visitors what this seal consists of and what guarantees and added value it offers them. It is our own certification, self-imposed and rigorously developed by all our teams, which provides our clients with maximum guarantees from the very moment they buy the plant", explains Rosa Hernandorena, Sales Director of Viveros Hernandorena who, together with her entire sales team, will be present at this new edition of Fruit Attraction.
The largest persimmon plant grower
Another of the values that Viveros Hernandorena is committed to reinforcing during its presence at this international event is its specialisation in persimmon plant production. It is currently the largest producer of persimmon plants, with a volume that this season will exceed 150,000 plants marketed and with a forecast increase to 200,000 plants for the 2023/2024 season. "At the moment we already have sufficient standards to reach this figure and confirm our position as a world reference in this sector", argues Rosa Hernandorena.
Confirming this specialisation in persimmon plants, Viveros Hernandorena is the only nursery authorised to sell plants of the Ribera Sun persimmon variety. "Since last January, we have already had authorisation to enter the Ribera Sun variety in the Register of Protected Varieties, which has very interesting agronomic aspects such as a larger fruit size which means less need for fertigation and therefore savings in water and nutrients", the Sales Director points out.
In addition, as a novelty this coming season, Viveros Hernandorena will be selling persimmon plants with a height of 1.20 metres. In this way, and by ensuring maximum quality and training, they are achieving significant savings in transport, allowing a greater volume of plant per pallet. "These are necessary savings for growers at the moment, and we are working on all these small details to help our clients in their agronomic projects", the Sales Director points out.
Visit us at Fruit Attraction 2022
From 4 to 6 October, the Viveros Hernandorena sales team will be available in Hall 3 Stand 3E05B, where they will be able to help you and answer any questions you may have.
To arrange appointments / interviews, please contact our sales department by email: info@hernandorena.com and telephone 96 253 26 81.
You can follow all our activity on RRSS, under the Viveros Hernandorena profiles on Instagram, Facebook and LinkedIn, with the hashtag #ViverosHernadorenaFA22.
https://ecomercioagrario.com/wp-content/uploads/2022/09/diana-sello-fiabilidad-varietal.jpg
1050
1050
administradoreca
https://ecomercioagrario.com/wp-content/uploads/2022/01/banner-eca-ing.jpg
administradoreca
2022-09-15 05:45:06
2022-09-19 13:11:37
VIVEROS HERNANDORENA to unveil its seal of Varietal Reliability at Fruit Attraction