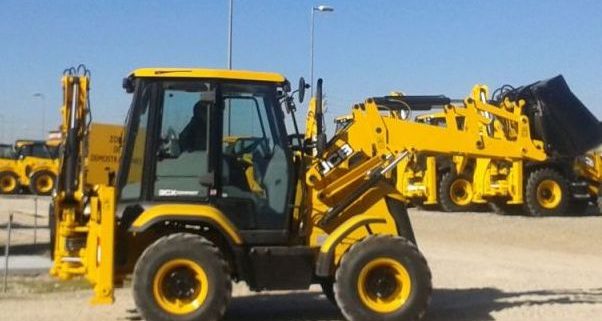 JCB, the largest private company engaged in the manufacture of equipment for construction, public works, agriculture and recycling, increased its sales in Spain by up to 15% in 2105, according to a press conference held recently by Company at its facilities in Alcalá de Henares (Madrid). An event where also was announced the appointment of George Heining as the new Director General for Iberia (Spain and Portugal).
According to data provided by JCB at the press conference held on 24th January, the 2016 year of this company in Spain has been marked by a growth in sales, both in the construction sector and in the agricultural market. Specifically, sales compared to 2015 have risen by 15%, a very considerable figure considering that the Spanish machinery market has only grown by 8%. All sectors, both construction and agriculture and industry have experienced a positive behavior. This positive trend in the demand for equipment is reflected in the growth that the multinational has been experiencing in the last three years.
One particular sector that is showing signs of reactivation is rent, a reliable indicator to rely on a renovation and expansion of existing parks
The company has been able to overcome in recent years a historic world market fall, thanks to a range of high quality machinery and a distribution network recognized for its professionalism and solvency, values that have augmented JCB as a leader in its product ranges in Spain. This company continues to improve its presence in strategic sectors such as recycling or waste treatment, with equipment specially designed for these tasks, and has strengthened its position in others such as the military.
New director for the new year
On the occasion of the presentation to the media of JCB's results in 2016 and its short and medium term challenges and objectives, Brunhilde Rygiert, the director of JCB in Spain, announced the appointment of George Heining as a new Director general for Spain and Portugal, who has assumed this responsibility since January 1st, 2017. George is 37 years old, British and Brazilian national and has worked with JCB in different positions in England, Panama, Brazil for more than 12 years. And Chile. His previous position was Chief Account Manager at JCB in England covering Southern Europe and Latin America.
Meanwhile, Rygiert (who has been in charge of JCB's Spanish subsidiary for 7 years and celebrated the 20th anniversary of its incorporation in 2013) will continue as Director of Large Accounts and a member of the Board of Directors of JCB Maquinaria S.A. in Spain.
Heining and Rygiert were accompanied by Claudio Fiorentini, JCB's Global Account Manager, who gave an overview of JCB's presence in the world and its investment plans, which are reflected in a constant innovation of all its product lines.
Thus, under the motto "JCB – Vision 2020", the executives announced the business forecasts and challenges that this company must face.
George Heining outlined an optimistic outlook for JCB Spain, growing 10% above the market average, which would allow it to continue gaining market share
As a very important factor, Heining emphasized his philosophy of serving the market: "We will take care of our network of distributors, who in turn take great care of our customers, who are the pillars of our success."
New products
The presentation of JCB was complemented by a parade of machines to announce their new mini-excavators, mini-loaders, mixed, telescopic, wheel excavators and loaders by "pairs".
As a novelty in the light range can be highlighted the mini 48 Z of 4800 kg with radius of rotation ZERO, and the 3CX Compact is called "Porta-implementos" for its high versatility
In the mid-range JCB presents a unique innovation in the world of telescopes: the model 531-70 AGRI PRO, whose dual transmission allows to work at low speed in hydrostatic mode and with automatic change to Powershift from 19 km / h among others features, and finally the revolutionary HYDRADIG, the first wheeled excavator with engine and tanks installed beneath the turning crown, providing outstanding visibility, stability and mobility.
About the Company
JCB is the largest private company in the world dedicated to the manufacture of construction equipment.
In recent years, this brand has also entered strongly in the sectors of agriculture, livestock and recycling
JCB's business strength is maintained thanks to the more than 10,000 employees on the 5 continents, which allows it to sell and deliver its products To 150 countries through more than 2,000 delegations. In Spain, JCB has distributors and official services throughout the peninsula, the Balearic and Canary Islands, which provide customers with commercial and technical support with optimal response times to solve all their needs.
Source: JCB
YOU MIGHT ALSO LIKE:
https://ecomercioagrario.com/wp-content/uploads/2017/01/170127_demostración-maquinaria-JCB1.jpg
326
602
Redacción ECA
https://ecomercioagrario.com/wp-content/uploads/2020/05/ecaesp.jpg
Redacción ECA
2017-01-30 12:50:06
2017-01-30 12:50:06
JCB increased its sales in Spain by 15% during 2016