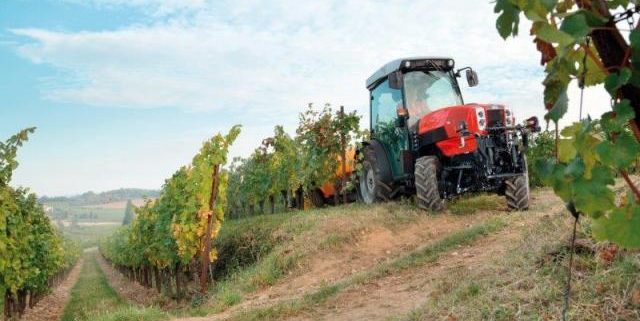 SAME Frutteto S ActiveDrive has obtained the title of "Machine of the Year 2017" in the category of specialized tractors, during the last edition of the International Fair of Machinery SIMA in Paris. The award was presented on February 27th by a jury made up of journalists from renowned European journals in the agromechanical sector. This recognition is added to the title of "Best of Specialized" obtained by SAME Frutteto S ActiveDrive in the scope of the Tractor of the Year 2016 award.
SAME Frutteto S Active Drive is a tractor designed to guarantee maximum agility and comfort, even between the narrowest rows and on unequal terrain
Technology and specialization are the two elements that characterize the SAME Frutteto S ActiveDrive range. Equipped with the exclusive suspension with independent arm system, hitherto owned by high-end tractors, the SAME Frutteto S ActiveDrive increases stability and safety in all terrains.
The main innovation of this machine is the combination and the synergy of the mechanical, hydraulic and electronic components, which guarantee a stability and traction control unique in its kind
Just press a button to have an adaptive suspension management. Thanks to this function, the electronic system manages in real time the shock absorbers with a regulation more rigid or softer according to the diverse operating conditions. The result is a damping system capable of reducing vibrations, so that the work is more comfortable and safe.
But that is not all; The anti-dive system makes the braking even safer, as it counteracts the sinking of the front train and the consequent displacement of the center of gravity forward. On the other hand, the anti-roll function automatically adapts the damping according to the rotation and the speed to guarantee stability and adhesion especially in the road curves.
Also during transport, the Frutteto S ActiveDrive ensures maximum comfort thanks to the always active automatic leveling system, which works to keep the suspension cylinders in their intermediate position thanks to a continuous analysis of the driving speed, angle of rotation and of the data sent to the control unit by the position sensors and speed of the hydraulic cylinders. Finally, to complete this innovative system is the DTC: the electronic control differential that intervenes in the progressive locking of the front wheels up to 100%, to ensure constant traction by varying the grip.
The new FARMotion Phase 3B engines, from 80 hp (3 cylinders) to 115 hp (4 cylinders), guarantee great flexibility and power with extremely small dimensions, to adapt to the most diverse working needs with maximum efficiency
Thanks to its characteristics, the new Frutteto S ActiveDrive is the most reliable companion for those who need great adhesion and high stability, to face the work of every day with total security and comfort.
The new range is available, in addition to version S for fruit trees, also in version V for vineyards
Source: SDF Group
YOU MIGHT ALSO LIKE:

http://ecomercioagrario.com/wp-content/uploads/2017/03/170316_SAME-Frutteto-S-ActiveDrive.jpg
426
640
Redacción ECA
http://ecomercioagrario.com/wp-content/uploads/2015/09/logo1.png
Redacción ECA
2017-03-16 13:00:48
2017-03-17 09:52:07
The specialized SAME Frutteto S Active Drive "Machine of the Year 2017" at SIMA