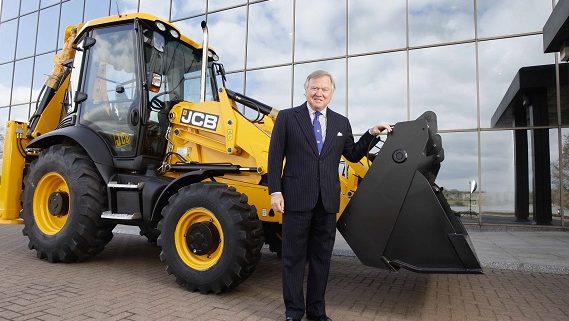 JCB's sales volume for the year 2016 has been increased by 12%, according to the machine manufacturer from Staffordshire during the presentation in July of its economic results for that year. Also, and challenging market conditions, JCB has increased its profit during the past year by more than 34%.
The profits made by JCB during 2016, before taxes, reached 287 million pounds (214 million pounds in 2015). Sales volume increased by about 12 per cent to 2,620 million pounds (2,340 million pounds in 2015), and the number of machines sold increased to 66,011 (59,844 in 2015), up 10 per cent on the previous year.

These strong results have taken place despite the 1% contraction in the global market for construction equipment in 2016

According to JCB Chief Executive Officer Graeme Macdonald, "JCB's results in 2016 have been achieved despite economic setbacks that have reduced the global market for construction equipment". Some markets grew, such as India, which increased by almost a 40%, while others fell, including Brazil, which fell more than 40%. The British market contracted 5% in 2016, but the good news is that after a few difficult years, European markets grew strongly and rose more of 10% last year".
JCB President Lord Bamford added, "while we are facing challenges in some parts of the world, the global construction market in what we have in 2017 is buoyant and is expected to continue to grow for the rest of this year. We continue to launch new innovative products and entering new sectors, which will enable JCB to achieve strong growth in the future".
According to Bamford, "the British market has had a particularly good start this year with housing construction, boosting demand for compact and mid-range equipment, in particular telescopic handlers. HS2, Hinkley Point and Thames Tideway are in the early stages of implementation, so customers are currently evaluating their fleet and machinery needs. Road improvements and expansion systems across the UK are also triggering an increased demand for equipment".
Source: JCB

YOU MIGHT ALSO LIKE:

http://ecomercioagrario.com/wp-content/uploads/2017/07/170816_BALANCE-ECONÓMICO-2016_JCB.jpg
376
569
Redacción ECA
http://ecomercioagrario.com/wp-content/uploads/2015/09/logo1.png
Redacción ECA
2017-08-16 08:15:21
2017-08-01 07:26:51
JCB grows sales 12% in 2016, with profit of 287 million pounds