Rabbit Meat has earned in its own right a position of honor in the Mediterranean Diet, a diet recognized worldwide for its health benefits by the WHO and considered Intangible Heritage of Humanity by Unesco. Its habitual presence in the feeding of the Iberian Peninsula, during centuries, has made of this meat an indispensable element of our alimentary tradition, as well as of our popular culture.
Throughout the geography of Spain, a generation of cookbooks has been forged generation after generation, combining gastronomic excellence with its contribution to the good nutrition of its citizens. Our ancestors have recognized in the rabbit a source of healthy nutrients as accessible as simple to elaborate.
Worrying downward trend
In a society with a growing concern to include healthy products in their daily lives, it is paradoxical that all the consumption parameters of Rabbit Meat are registering a negative evolution. In just a decade it has gone from a consumption, in 2008, of 63,872 tons, to 56,049 tons consumed in the
In this same period, rabbit meat ingested per inhabitant per year has dropped from 1.46 k / inhabitant / year to 1.27 k / inhabitant / year (data from the Ministry of Agriculture and Fisheries, Food and Environment).
Given this scenario, the community authorities have decided to join the initiative launched by INTERCUN, the Interprofessional Organization to promote the Sector Cunícula. It is a three-year program with a wide range of actions created with a common goal, to encourage the presence of Rabbit Meat in the shopping cart. As stated by the managing director of the Interprofessional, "there are many reasons why the CHAFEA has opted for a product like ours. On the one hand, it is one of the healthiest meats for consumers, from the smallest to the oldest. In a society that sees how cardiovascular problems, overweight and obesity, have become a pandemic, is where meats like the one that makes our sector are more necessary than ever. That is why the European Union has made an important commitment to encourage consumers to rediscover rabbit meat, both in Spain and Portugal. "
The recipe of Europe
The presentation of this European Program has been held coinciding with Europe Day. An ideal occasion to claim the recipe of Europe. Through actions such as this of INTERCUN, the community authorities are committed to encouraging consumers to discover the products that are part of our usual diet and our cultural tradition.
One of the key messages of this program is to inform about what implies, for the consumer, the reference of "made in Europe". The citizens of the Old Continent can trust that the agri-food pantry, like the Rabbit Meat they have at their disposal, reaches their hands with the maximum guarantees of quality, food safety, sustainability and animal welfare. One of the most advanced producing sectors in the world and a whole mechanism of guarantees and controls make it possible.
Your possibilities
Both Juan Pozuelo and Araceli Conty have coincided in highlighting the endless horizon of gastronomic possibilities that opens up for a chef who drinks on Rabbit Meat. As it is a meat with very little fat and low sodium content, it can be prepared for all the members of the family. Both for those who want to enjoy without complications, spending the minimum time in the kitchen and without complex techniques, for those who opt for something more gastronomic, Rabbit Meat has everything you need to succeed in a thousand and one elaborations.
It is a meat that adapts perfectly to a quick dish, a barbecue day, a bag of food for the office or the most select restaurant. Without forgetting so much how easy it is to prepare it as its great flavor. And now we propose recipes that are ready in less than ten minutes, all with a simplicity that will surprise you, such as those made during the presentation: churrasquito rabbit, rabbit wire, peppers and onions, and roasted jamoncitos with chimichurri.
There are so many reasons to bet on the Meat of Rabbit as the ideal meat for the whole family as elaborations to enjoy it. The best product, both for the grandmothers who have spent all their lives giving the best to their own and for the young people who are beginning to configure their personal list of recipes where this meat should not be missing if we look for a healthy and balanced diet.
YOU MAY ALSO LIKE: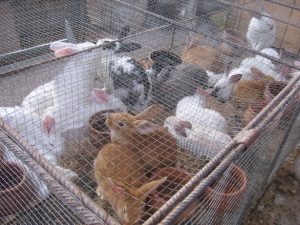 http://ecomercioagrario.com/wp-content/uploads/2018/05/conejo.jpg
458
1000
Redacción ECA
http://ecomercioagrario.com/wp-content/uploads/2015/09/logo1.png
Redacción ECA
2018-05-16 14:12:10
2018-05-16 14:12:10
The Rabbit Meat claims its present and bets for its future