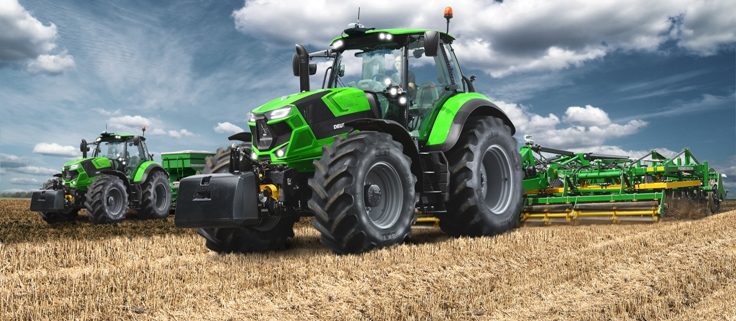 The German manufacturer of agricultural machinery SDF has presented in its Training Centre SDF Academy of Toledo, its new series of agricultural tractors 6 and 7 for the Spanish market, which is sold under the brand Deutz-Fahr.
6 series consists of 12 models ranging from 153 to 226 hp, and are designed to plow, sow, cultivate, transport, harvesting and maintenance of municipal areas. Meanwhile, the 7 Series includes two models from 226 to 245 hp maximum power which are focused on contractors and large farms. Globally were presented last July in Dresden (Germany).
The launch is part of the renewal process undertaken by the company to adapt its products to new emissions regulations, initiated last year with the introduction of 9 TTV (290-340 hp) series
The new tractors feature a more powerful and cleaner engine (DEUTZ TCD 4.1 and 6.1, for 6 and 7 series, respectively) adapted to phase 4 and prepared for Phase 5 (which comes into force in 2020) and, among others news, feature a new cooling package (100% aluminum radiators Mahle, easily accessible, tailored to each power, and fan e-Visco maximum cooling efficiency); a new passive soot filter (which allows the engine to work without 'worry' of particles, also has higher performance and better low-end power curves / pair); also adds a new gas recirculation system (which provides a reduction of NOx); and turbo valve. These changes mean for the user fluid average savings of 5% (between diesel and AdBlue).
The new tractors are characterized by being more efficient, productive, versatile and adapted to precision farming, but without neglecting aesthetics. In this sense, the front has been redesigned and is separated from the cabin, giving less vibration and greater thermal and acoustic insulation. This has been done in collaboration with Italdesing Giugaro, which has also changed the aesthetics of the hood, making it bulkier and more angular forms, to facilitate a perfect air circulation and comfort opening.
One of the most distinctive new 6 Series is related to the transmission, available in three versions, Powershift, RCshift and TTV, to choose according to customer needs
The first two versions are new and the goal is to provide the maximum benefits for the greatest performance adapted to each circumstance, with less energy expenditure. The Powershift models offer a manual transmission 5-speed synchromesh ranges under load plus 6 forward and 3 reverse (total 30 + 15 relationships, Geared: 54 + 27). The RCshift models feature a fully automatic transmission with five more 6-speed robotised ranges under load forward and 3 reverse (total 30 + 15 relationships, Geared: 54 + 27).
For its part, the TTV transmission offers 4 ranges and endless relations forward. In this sense, the continuously variable transmission TTV 7 series covers a range of speed ranging from 0.2 to 60 km/h (in markets where permitted) and now incorporates a new software that ensures top driving, with the top speed of 60 km/h is unique in its category. All top speeds of 40 km/h, 50 km/h and 60 km/h can be achieved with the engine at low revs.
As affects axles and tires, the company has designed a new front axle, with a new crib, new suspension (which manages their behavior continuously) with Anti-pitching system and three predefined levels of damping. All this to bring greater stability and comfort.
So far the hydraulic technology for both series was only available in high-end tractors. Now you can install up to five distributors in the rear and two in the front
Most notable is that all hydraulic distributors are proportional. Also new on line 6 the ISOBUS socket on the front and the front linkage with position control and maximum lifting capacity of 5.480 kg. The maximum rear lift capacity is 10.000 kg.
The driving position has also been renovated and offers two cab options: Maxivision and Maxivision 2. Both designed to provide maximum comfort and, among other features, offer full frontal moon, padded seat passenger, WOLP control lights, refrigerator low the seat and adjustable nozzles. Besides these, other options they offer are new options sunroof (with UV protection and FOPS) standard halogen headlamps and led headlamps possibility with great lighting and minimal power consumption.
It is planned that the first units will be available throughout the month of October, and that the full range is ready to face the first quarter of 2017
The key date for full availability of this range will be the next edition of Demoagro, to be held next May in San Clemente (Cuenca).
SDF has its headquarters in Treviglio (Bergamo, Italy) and is one of the leading manufacturers of tractors, harvesters and diesel engines worldwide. It distributes its products under the Deutz-Fahr, Same, Lamborghini Trattori, Hürlimann, Grégorie, Lamborghini Green Pro and Shu-have brands. It has 8 production plants, 13 sales subsidiaries, 2 joint ventures, 141 importers and 3.000 dealers worldwide. In 2015, total turnover was 1.39 billion euros. In Spain, the subsidiary of the group is directed since last January by Manuel Alonso.

http://ecomercioagrario.com/wp-content/uploads/2016/10/161018_serie-7.jpg
491
736
Redacción ECA
http://ecomercioagrario.com/wp-content/uploads/2015/09/logo1.png
Redacción ECA
2016-10-19 07:00:22
2016-10-18 11:41:10
Same Deutz-Fahr in Toledo presents its new tractors for precision farming