Sakata, the Japanese company of global implantation, has inaugurated in this month his new center of investigation, development and production of seeds, in Spain, concretely is established in the locality of The Puebla de Vícar pertaining to Almeria.
Its inauguration, held on April 6, was chaired by Hiroshi Sakata, President of Sakata Seed Corporation, and was attended by Alain Sicard, President of Sakata Vegetables Europe and Javier Bernabéu, Managing Director of Sakata Seed Ibérica, together with most of the company's staff in Spain.
The event began with a presentation of the new facilities by Frank Tardieu, EMEA Research Director at Sakata Vegetables Europe. Next, a guided tour was carried out by the Manager of the Francisco Flores station and an exhibition by Javier Bernabéu. The act was closed with a meal.
Sakata seeds have been present in the European market since the 70s. It was in 1990 when the company's first infrastructures were created in the Netherlands to serve Europe, the Middle East and Africa. In 1996 Sakata founded Sakata Seed Ibérica, the subsidiary responsible for giving commercial support to Spain and Portugal. At present, Sakata has three work centers, two research stations in Murcia and Almeria and a commercial office in Valencia. With the inauguration of this new research center, Sakata manifests its commitment to the Spanish and Almeria market in particular, and its commitment to continue promoting its R & D & I area.
YOU MAY ALSO LIKE: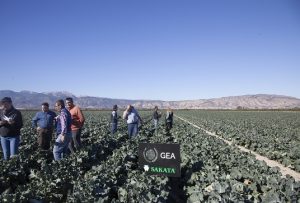 http://ecomercioagrario.com/wp-content/uploads/2018/04/saka-1.jpg
667
1000
Redacción ECA
http://ecomercioagrario.com/wp-content/uploads/2015/09/logo1.png
Redacción ECA
2018-04-13 12:45:02
2018-04-13 12:10:45
Sakata inaugurates its new center in Almería