Viveros Hernandorena keeps specializing in the production and sale of pomegranate, its key is the high quality and volume of the plant that is capable of providing both traditional varieties and the new ones from the IVIA, Iliana and Rugalate improvement programs.
Marga López, Periodista Agroalimentaria (@MargaLopez77)
This guided production system, called "Guided just in time" begins from the moment the stalks sprouts, when a stake is placed, periodically removing the still tender buds, leaving only the straightest and most vigorous. The main shoot is guided by the tutor until the end of the cultivation in the nursery.
In this way, a much straighter and more homogeneous plant is obtained both in size and height, achieving a notable differentiation in the quality of the finished plant with respect to traditional systems.
Varietal offer of pomegranate
In addition to working the three best known pomegranate-free varieties such as Acco, Mollar and Wonderfull, for more than a year ago and under licenses, Viveros Hernandorena has added the Iliana and Rugalate varieties to its catalog, novelties of the IVIA plant improvement program. Iliana stands out for being early while Rugalate is later, both red, sweet and with soft seeds.
"It is true that for the early segment there is more varietal competition, but in the late segment, Rugalate is the only red and sweet one, and therefore there is an important niche in varieties adapted to our climate", says the commercial director.
Stock available for this coming winter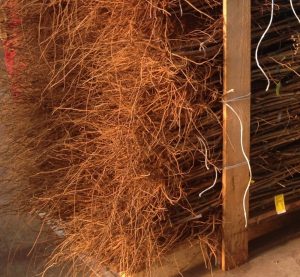 The plant material of both traditional and protected varieties is cut from its own mother plant fields, a plant material controlled at all times by Sanidad Vegetal.
The start and planting dates run from December to February, although they offer the possibility of delaying this planting until March and April with their own cold rooms.
To date they feature 6,000 plants of the Mollar variety; 16,000 plants of the Acco type; and 25,000 plants of the Wonderful one.
With respect to the varieties protected by IVIA, in the case of Iliana they have 10,000 plants; while Rugalate has 60,000 units.
The extra quality sales format with a bare root and guided by a tutor happens under the "Guided just in time" protocolized production system.
Contact
Request a quote according to the amount of purchase and place of delivery at info@hernandorena.com or by calling +34 962 53 26 81.
https://ecomercioagrario.com/wp-content/uploads/2020/11/rugalate.jpg
750
1000
administradoreca
https://ecomercioagrario.com/wp-content/uploads/2020/05/ecaesp.jpg
administradoreca
2020-11-12 08:02:31
2020-11-12 13:00:19
Viveros Hernandorena gives us the most complete stock of pomegranate plants