Agroponiente Group (Agroponiente and Vegacañada) has closed its first day of Fruit Logistica with intense activity on your stand from the commercial point of view and also in institutional relations. At the booth, we have received visits from four different continents, but especially from some of the major European operators in a day more than one hundred business appointments by about twenty traders displaced by the company to Berlin show. Moreover, at the institutional level, the stand of Agroponiente Group received the visit of the Minister of Agriculture of the Junta de Andalucía, María del Carmen Ortiz.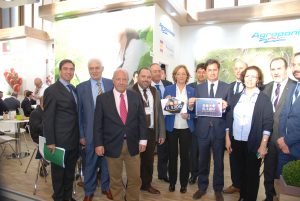 The minister, the general manager, Rafael Peral, and the delegate of Agriculture in Almería, José Manuel Ortiz were also present at the stand of Agroponiente and Vegacañada Deputy Provincial Development, Oscar Liria, mayor of El Ejido, Francisco Gongora, with his council of Agriculture, Manuel Gomez, and council of the City of Almería, Juan José Alonso and Juan José Segura.
According to Antonio Escobar, CEO of Agroponiente Group, "our presence in Fruit Logistica is very important in general and in this particular complex year. We took six straight years going to this exhibition with its own stand and the truth is that these three days are very intense in terms of business contacts with both customers already working with us as with others who can manage to do it. Here all the agro sector of the world and a company that always looks to the horizon with ambition and innovative spirit has to be here, where the pulse is taken the sector itself "congregate.
For his part, Francisco Lopez Martinez, CEO of Vegacañada, said "Fruit Logistica is a key event for the industry and our companies make a major effort to be in it in the best conditions. We have an obligation to promote our product and take care of our customers and meet them here is key to strengthening relationships and evaluate the work done. In addition, our vocation here is always on duty and study of what is happening in the sector. Prospects after the first day, are very positive and I am sure that tomorrow will be even more intense day. "
This year, Agroponiente and Vegacañada have gone a step further in his presence in Fruit Logistica with its own distinctive design and stand within the area of ​​Andalusia, with more meters and a self-image and moving to market oriented differential values of our companies. In addition, Agroponiente has placed particular emphasis on promoting their brand new organic product, Bio Poniente and Vegacañada in your brand new Passion de Vega.
Source: Agroponiente. Vegacañada
https://ecomercioagrario.com/wp-content/uploads/2016/02/4.jpg
1296
1936
Redacción ECA
https://ecomercioagrario.com/wp-content/uploads/2020/05/ecaesp.jpg
Redacción ECA
2016-02-04 08:05:29
2016-02-04 17:07:02
Vegacañada & Agroponiente are working hard at Fruit Logistica