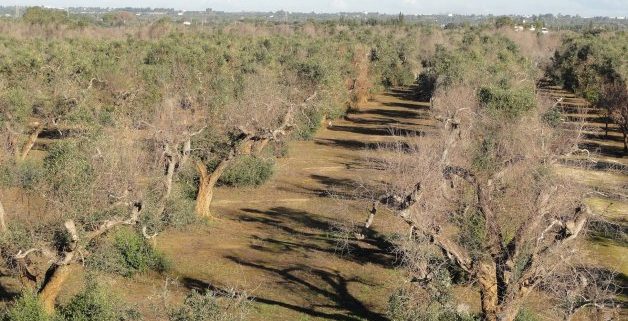 An international group of researchers, led by the Higher Council for Scientific Research (CSIC), has discovered that the main strain of Xylella fastidiosa bacteria that attacks several agricultural crops in Europe, including olive groves, has its origin in the United States.
In a statement, the CSIC has reported that the scientists verified that all the introductions of said pathogen of the subspecies "multiplex" in Spain, Italy and France have a common origin in California.
The research team sequenced the complete genome of more than a dozen European isolated samples of "Xylella fastidiosa", belonging to this strain.
With the result of these analyzes, a comparative study was carried out with all the available genomes of this subspecies worldwide and its origin was concluded.
The coordination has been carried out by the Institute of Sustainable Agriculture (IAS), center of the CSIC in Córdoba, and for the lead author of the study, Blanca Landa, this bacterium constitutes "without a doubt" the greatest emerging threat to agriculture in the countries of the European Union (EU) and the Mediterranean Basin.
It is a bacterium with a "huge pathogenic potential", since it infects and causes severe disease in different agricultural crops of great economic importance such as the olive tree, the vine and the almond tree, in addition to affecting wild and forest species typical of the Mediterranean forest, has indicated.
For Landa, the study is of "great relevance", since based on the characterization, eradication and containment measures are applied, and highlights the risks associated with the trade of plant material worldwide, for which it is necessary to develop effective policies that limit the probability of pathogen introduction.
The advance of the bacteria in Europe
The "Xylella fastidiosa" tour of Europe began at the end of 2013 when the EU phytosanitary authorities reported the appearance of a "devastating" epidemic associated with this bacterium in the olive groves of the Apulia region, in Italy. The focus has been expanding rapidly and currently affects more than 200,000 hectares. Subsequently, new outbreaks have been detected on the island of Corsica and on the French Riviera, associated with strains other than Italian.
In Spain, three subspecies of the bacteria were found three years ago in the Balearic Islands, including the "multiplex", spread over the entire surface of the islands of Mallorca, Menorca and Ibiza, and affecting more than 21 plant species. In Alicante, on the other hand, this subspecies was found more than two years ago, affecting a "large area" of almond trees and 10 other wild and ornamental species.
In January of this year, the same subspecies arrived in Portugal affecting several species of ornamental and wild plants.
The study also concludes that the genetic diversity of the bacteria found in the community territory indicates that different introductions have taken place, which occurred independently.
https://ecomercioagrario.com/wp-content/uploads/2020/01/xylella.jpg
375
628
Redaccion2 ECA
https://ecomercioagrario.com/wp-content/uploads/2020/05/ecaesp.jpg
Redaccion2 ECA
2020-01-03 12:53:27
2020-01-03 12:53:27
The "Xylella fastidiosa" that attacks in Europe comes from the US