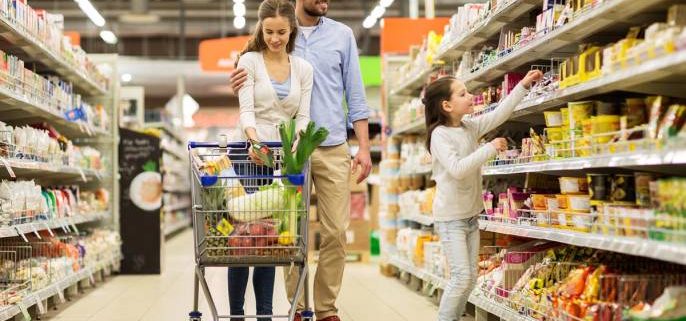 We still wonder if the consumption of organic products in Spain is a fad or a reality to which we must get used to. The certain thing is that the bet of the distribution is every day firmer in this line, also of the primary link, while the consumer still demands changes to feel satisfied.
By Marga López, agrifood journalist
Spain occupies the first place in Europe in terms of area devoted to organic production, with more than 2,082,000 hectares in 2017, according to the latest report from the Ministry of Agriculture, Fisheries and Food, and the fourth worldwide, only from behind from Australia, Argentina and China. These are figures that indicate a strong increase in the last 10 years, of around 110% (988,323 hectares in 2007), and the advances of 2018 made public by the Ministry last April indicate an increase of 5%. % in terms of area, 6% in the number of operators and 11% in number of bio industries.
We are therefore facing a growing sector, which, however, is still debated between whether it is a trend or a trend that is bound to consolidate. What is clear is that both producers, marketers and retail have found in this line of business arguments for their differentiation. Now it only remains to conquer a consumer increasingly eager for innovative products but at the same time contribute to take care of their health and the environment.
Organic fruit and vegetable production in figures
If we talk about eco surface, most of the 2,082,000 hectares counted in 2017, correspond to pastures (52.13%), followed by permanent crops with 25.38% (where we include fruit trees, subtropical, berries and citrus) and arable land with 22.49% (where the rest of fruits, fresh vegetables and potatoes would be).
As a whole, the area in Spain of fruits and vegetables echo sum 43,464 hectares, citrus being the main crop, placing us behind Italy as the European producer of this fruit.
If we analyze the geographical distribution, Andalusia is the largest region within the Spanish territory, with 46.80%, followed by Castilla La Mancha, with 17.88%, Catalonia with 9.64%, the Valencian Community with 4 , 63%, Extremadura with 4.54% and Murcia, with 3.88%.
The per capita expenditure of organic products in Spain is € 42.2 per inhabitant per year, a figure much higher than 10 years ago (€ 6 per capita).
Just as the surface grows so does the production. In the report of the Ministry estimated for 2017 a volume of 577,500 t of organic fruits and vegetables, highlighting the group encompassed in arable land, with 339,992 t, of which more than 71,000 t were tomato, followed by pepper with more than 38,400 t, cucumber with 27,000 tonnes and melon with 21,000 t. With regard to permanent crops, the fruit and vegetable production was 237,307 t, of which just over 160,900 t were citrus fruits, 23,634 t of stone fruit, 16,477 t of pip fruit, 12,135 t of bananas and 10,841 t of avocados
Regarding the number of operators, there are more than 43,984, of which 37,712 are agricultural producers and 1,523 are commercialized. As has happened with the surface, the number of operators has also increased considerably in the last 10 years (107%).
Looking towards export
The foreign market is the one that sustains the ecological sector in Spain. The vegetables and potatoes represent 25% of the total eco export, while the fruit 14%. Our exports are directed almost entirely to the European Union (Germany, France, United Kingdom, Italy, Sweden and the Netherlands, among others); and to a lesser extent to non-EU countries, such as the US, Mexico, China, South Korea and Australia.
Internal Consumption
Despite these production and surface data that confirm us as a superpower in terms of eco, at the level of consumption in Spain we are still far from the figures managed by our European partners. According to the General Directorate of Food Industry of the Ministry of Agriculture, our per capita expenditure on organic products is € 42.2 per inhabitant per year, a figure much higher than that of 10 years ago (€ 6 / per capita), however still far from the data that moves in other countries around us, and that places us in the 18th position of a world ranking led by Switzerland (€ 274 / p), Denmark (€ 227 / p) and Sweden (€ 197 / p. p).
Profile of the Spanish eco consumer
It is a young consumer, more concerned about health and with greater social and environmental awareness. Fruits and vegetables are the gateway to eco consumption, and as you consolidate your consumption, you increase the categories you buy in bio. In order to validate the authenticity of these products, it is based on the stamps, on the confidence given by the chosen sales channel, on the morphology of the product, on the color and smell, according to a study presented by Xavier Cros, responsible for Shopper View of AECOC.
According to this same report, 75% of purchases are made in non-specialized points of sale (super and hyper), while the rest do so in specialized channels for the quality and confidence that they generate. In this regard the Association of Ecological Entrepreneurs and Supermarkets (Aeseco), among whose partners we can find establishments such as Ecocentro, Macabeo Commissary, Organic Space, GranBibio, NaturaSí, La Natural, El Vergel, Gaia, ABC de Bio and Tierra Viva among others, vindicates its role as a specialized sales service, based on an exhaustive knowledge of the offer in order to be able to provide rigorous advice during the purchase to customers.
And is that despite the consumption is increasing, only 28% are satisfied with the purchase, which should be considered as a wake-up call because there is still a long way to go to achieve that satisfaction that radically activate the consumption and therefore the sales in our country. As a positive, the consumer is willing to pay a plus for organic products, and values ​​as positive the increase in their availability.
What producers and marketers are doing
The distribution is dedicating space in the linear to the eco products, investing in communication and in prescribing professionals
If ten years ago the eco products were exclusive to those companies producing and marketing dedicated solely to this business segment, today it is rare to find this line as one more strategy of the conventional products companies. In some of these cases, we have opted for eco or bio as a differentiating element, without knowing how to channel their commercialization. This has led to these products despite being echo, end many times in conventional sales channels, with the economic losses that entails for the producer.
Fortunately, this situation has changed, they are more committed to the bio as a clear and defined business strategy, with differentiated commercial structures, knowing who they are or can be their clients.
And now, those same entities go a step further, and want to take that bio / eco bet, also to the packaging with which they market their products. A trend of sustainable packaging opens the way, with the challenge of also convincing the consumer of the necessary presence of packaging and packaging as they contribute to ensuring food safety.
What is retail doing?
Apart from the greater or lesser concentration that is taking place in retail in Spain, and where this aspect is in itself a differentiating element, Pablo de la Rica, manager of Retail Knowledge of AECOC identifies three axes on which the company is working:  modern distribution to attract the consumer: convenience, unicanalidad and a third group where health and sustainability are included, and it is in the latter where the eco products enter fully as a flag of that commitment to a healthier diet.
Faced with this reality, Spanish retail is clearly betting on the bio, and although, as we have highlighted, the level of consumption is far from that of our European neighbors, it is having significant growth and will continue to do so. This is causing all distributors to incorporate into their establishments a space dedicated to this type of products, invest in communication, in prescribing professionals … "But in addition, they are also leading informative actions through their web and activities such as conferences, talks … ", Explains Pablo de la Rica, from AECOC.
As clear examples of this commitment to eco products as a differentiating element, we have Carrefour, which is leading the food transition under its Act for Food project, which it hopes to complete in 2023. It is a series of initiatives aimed at helping consumers to eat healthier and where the emphasis is on bio products, and within these, on organic fruits and vegetables.
We must also highlight the strategy of El Corte Inglés, one of the first to bet on these products. In 2017 created a specific space for them, the Biosphere, where we found more than 1,500 references, not only horticultural, and where the concepts of km 0, sustainability and eco innovation are also very present, with the aim of improving the shopping experience.
It also highlights the bio horticultural line in Consum, under its brand Consum Bio. It is an offer that we find in more than 270 of its establishments, that is, 50% of its network.
Other groups such as Lidl, Aldi, Eroski, Alcampo are also developing concrete strategies in this sense, aware that today, but above all tomorrow, it will be a category with a lot of weight within its business volume, and a lever to activate its positioning in the struggles to retain customers. Mercadona is surprising because it is the only national distribution chain, which for the moment has not yet made a firm commitment for this type of product.
CONCLUSIONS
We are therefore facing a new business model, not because production or consumption is new, but because the agents involved in it find new arguments every day to continue betting on them. If a few years ago the healthiness of these products was the main reason for their production and consumption, today is sustainability and respect for the environment. However, we can not forget that eco or bio products are not better nutritionally than conventional products, nor do they have to be more good. It is simply a different production and marketing, where certain aspects are prioritized that every day are more important in today's society. For its part the consumer now claims more, asks for greater and better availability, more information, and above all values ​​that this philosophy of production also extends to the distribution and the way in which the product is presented in the linear.
The changes have not done anything but start.
https://ecomercioagrario.com/wp-content/uploads/2019/03/supermercado.jpg
400
686
Redacción ECA
https://ecomercioagrario.com/wp-content/uploads/2020/05/ecaesp.jpg
Redacción ECA
2019-05-21 13:30:39
2019-05-21 13:35:27
The unstoppable progress of organic farming