By César Marcos
July 20, 2015 
Those who know him closely underline his perfectionism and honesty in facing his passion, to which the Michelin 2015 guide gives as the cook with more stars in the country: three-star in his "mother" restaurant of Lasarte, two at Lasarte restaurant at the Hotel Condes de Barcelona and two in the restaurant MB luxury resort Abama in Tenerife. Berasategui personifies the "olive oil" in this section.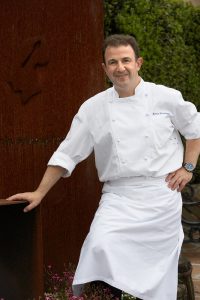 eComercio. His career is a risky adventure. What do you most value in your kitchen and in which new projects are you in?
Martin Berasategui. I usually like to say that my cuisine is complex and at the same time familiar, capable of opening up a rute for the next generation, with the difficulties that involve that people understand that we must add many details to make it all work at the level that we demand. The product and suppliers are an essential part of the gear needed to make creative cuisine we offer in my restaurant in Lasarte and the rest of which I advise. My kitchen is also very attached to my land and my roots, but open to the world. That is certain.
As for new projects, I like to talk about them once they are well directed and materialized. I never close the door to anything, only time has the floor.
eComercio. From local to global, gastronomy melts boundaries like no other discipline. Both in Europe and Latin America, exactly where their recipes are inspired?
MB. I never get tire of saying, they inspire me many things, but above all it inspires me my land. Today's cuisine and has no borders, in fact I am open to all kinds of influences and products, however, each one parts from the cuisine of their roots, of their own personality and sincerity. Only after that it get possible to unleash the imagination, on a solid foundation and oriented experimentation.
eComercio. The documentary "Snacks. Bocados de una Revolución" is a portrait of cuisine in Spain. Which milestones would you highlight of its evolution until today?
MB. I think each and every recognition award to the good work of each of the chefs who make up the cuisine of Spain and we are honored to participate in the documentary Snacks, which is a milestone. And the whole of it has caused this very sweet moment we live in Spanish cuisine nowdays.
eComercio. How does the Peruvian cuisine influence in your kitchen?
MB. It is different but if you stop and think it does have certain similarities. It is a fascinating culinary, with many nuances, rich in expressions, as happens to the Spanish, with a huge legacy. Furthermore until not long ago it was not enough known in the world, which also happened at the time in Spain. Fortunately, this trend has changed radically. Peru and Spain must be very pleased with the level of hospitality they hold.
 eComercio. Which are the raw materials with more personality of you country to develop new culinary creations?
MB. The extra virgin olive oil and also the have great weight raw materials that are born of the earth, such as vegetables and fruits.
 eComercio. What about ingredients of the Spanish cuisine that combine perfectly with the Peruvian's?
MB. There are plenty of local products that match the cuisine of Peru. Seafood, fish, bivalves… It would implies a little bit of playing and find combinations. I'm sure it would leave thousands of them…
eComercio. We are a pioneer media who focuses our news content on food and agriculture from two perspectives: the European and Latin American. Do you think that platforms like ours are necessary to bring the cuisine and culture consumers on both continents?
MB. They are more than appropriate. The role of the media has been critical to our culinary progress, that's no doubt. I always think that alone we do nothing and we should be grateful to those who help us. A platform like yours is a gift that we must be most grateful and has immense value in having it. We can do great things, but without the help of the media, would stay midway … I'm sure that both the European and Latin American cuisine will thank you.
https://ecomercioagrario.com/wp-content/uploads/2015/08/entrevista-martin-berasategui-ecomercioagrario-2.jpg
520
900
Redaccion2 ECA
https://ecomercioagrario.com/wp-content/uploads/2020/05/ecaesp.jpg
Redaccion2 ECA
2015-10-16 17:05:15
2015-11-04 23:20:49
Berasategui: "Peru and Spain must be satisfied with the level of their hotel trade"