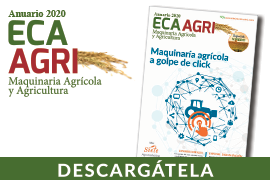 The digital edition of the ECA AGRI yearbook magazine, edited by SIETE Agromarketing and e-Comercio Agrario, is now available.
In it you will find the most relevant information of the agriculture and agricultural machinery sector, from an analysis of the evolution of the agricultural machinery market, to our specials such as the "Special digitization. Technical article on the digitalization of irrigation in the vineyard "by the Professor of Hydraulic Engineering. Department of Agronomy. ETSIAM University of Cordoba.; or the "Special digitization. Digitization is imposed in the Agricultural Machinery sector".
In reference to the current scenario, diversification and sustainability are presented as two of the great strategies to ensure the future of a wine sector at risk due to the consequences of rising temperatures due to climate change, the food journalist Juan Herrera tells us about this in the "dossier Viñedo. Adapt to climate change to ensure the future of the sector.
For its part, the agri-food journalist Marga López brings us the special about 2020, the international year of plant health. Also, in addition to the topics explained, this complete publication includes opinion articles and full-fledged reports and interviews with some of the most prominent figures in the sector such as the one made to the Aragon Agriculture Councilor, Joaquín Olona, ​​who reviews the Current situation and the challenges facing the agricultural sector in the region, with low prices, the CAP and a new edition of FIMA as a backdrop.
There is also a lack of information related to the main companies and events. Do not miss it!
About the magazine
ECA AGRI is a publication that offers a detailed analysis of all the news of the agriculture and agricultural machinery sector, providing global political and economic information on this area, in the line of Agricultural e-Commerce (ECA) which, today , is positioned as a pioneer among online publications in the agri-food sector, with a clear national and international vocation.
https://ecomercioagrario.com/wp-content/uploads/2020/02/ecaagri-270x180-1.png
180
270
Redacción
https://ecomercioagrario.com/wp-content/uploads/2022/01/banner-eca-ing.jpg
Redacción
2020-02-21 15:43:34
2020-02-21 15:43:10
Siete Agromarketing launches the digital edition of its yearbook magazine ECA AGRI