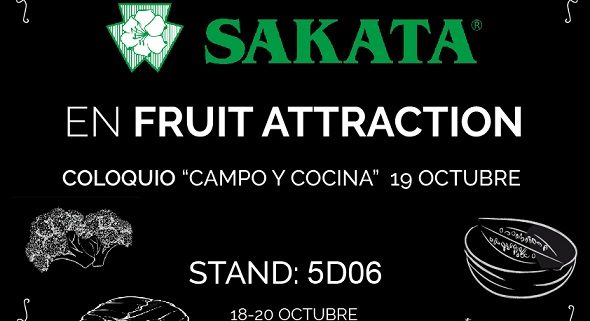 The seed company, Sakata Seed Ibérica, will be present at the next edition of Fruit Attraction in pavilion 5 stand 5D06, betting on the taste of its varieties. Thus, and under the motto "Sakata Sabor", the central day of the fair, Thursday 19th October, the seed company has created a space in its stand where a colloquium will be held entitled "Field and kitchen" where, in a relaxed way a debate will be held on the importance of flavor from the beginning to the end of the food chain. This colloquium will be attended by Martín Berasategui, one of the most distinguished chefs in the country, who will serve as gastronomic spokesman.
Sakata will present in Fruit Attraction its most outstanding innovations of the cultivations of broccoli, cabbage and melon: Ares, Felicity and S1422, respectively
Ares is the novelty of Sakata par excellence, it is a variety of broccoli that stands out for its precocity, uniformity and performance.
Felicity, is the new flat cabbage offered by the company, ideal for industry
Finally, the melon toad skin still to be baptized, S1422, stands out for its conservation and good taste for the end of the season.
In addition, the stand will give special prominence to the two brands of Sakata: Sapito and Bimi. Sapito is a new brand of the company, it is a variety of toad skin melon whose main differential characteristics are its small size (very comfortable to handle, since it only has 2 kilos in weight) and its intense, refreshing and juicy taste .
Bimi, already known by many in the sector, is a vegetable of the brassica family with a sweet sweet and tender taste
Sakata has been present at the Fruit Attraction trade fair since 2010, since it understands that it is a perfect setting to talk with its suppliers and customers, as well as to keep abreast of new developments in the sector and to detect new market needs.
Source: Sakata Seed Ibérica
https://ecomercioagrario.com/wp-content/uploads/2017/09/170920_Sakata_Fruit-Attraction.jpg
418
590
Redacción ECA
https://ecomercioagrario.com/wp-content/uploads/2020/05/ecaesp.jpg
Redacción ECA
2017-09-20 10:24:32
2017-09-21 09:01:10
Sakata will wave the flavor flag at Fruit Attraction