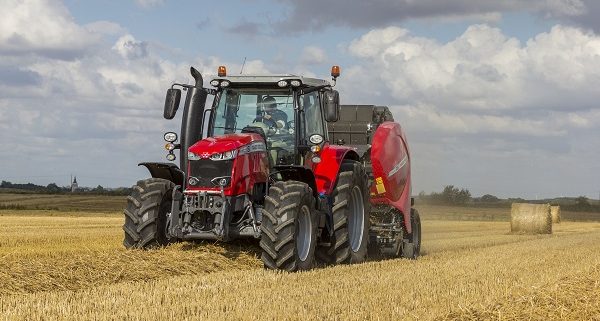 The agricultural machinery firm Massey Ferguson has taken advantage of its presence in Agritechnica 2017 to make known some of its new products. Thus, while its new portfolio is consolidating, each and every one of the machines that have been presented at the Massey Ferguson stand at Agritechnica are completely new, from tractors to harvesters, packers, forage and telescopic machinery.
The stand of Massey Ferguson in Agritechnica, set in different applications: extensive cultivation area, livestock and specialized tractor, has been designed so that the visiting public can see 'in situ' the impressive range of new tractors, new collection machinery, new implements for hay and fodder and telescopic of this firm, presented in scoop.
Agritechnica has also served as the launching platform for the new and complete range of Massey Ferguson Premium services along with the new promotions and offers 'Diamante' of MF
First fruits of Massey Ferguson in Agritechnica:
Massey Ferguson 'S' Series Tractors: Massey Ferguson's newest additions to all high performance tractor models manufactured in Beauvais, France, offer a new cutting-edge style, the option of the new touchscreen terminal Fieldstar 5 and a series of new series features that improve comfort, efficiency and safety. To mark these important improvements, all new ranges of high-performance Beauvais tractors will include the suffix 'S' in the model number. The models of the MF 8700 S ranges from 270-400 hp, MF 7700 S from 140-280 hp, MF 6700 S from 120-200 hp and MF 5700 S from 100-130 hp were exhibited at the stand. The MF 5709 S 95 HP is a new model in the lower section of the MF 5700 S series that offers customers high performance in a compact package with choice of Dyna-4 or Dyna-6 transmissions.
MF 5700 Dyna-4: The innovative MF 5700 Global series is extended with the launch of the new MF 5708 85 HP and MF 5709 95 HP models that include the famous Dyna-4 transmission as standard, as well as the option to add the suspension of the cabin.
MF 3700 series (V, S, F, GE and WF): Designed for vineyards, orchards, fruit trees and sloping crops, this extended series of tractors offers ranges dedicated to each category of specialized agriculture. With widths ranging from 1.1 m to 2.2 m, it now includes a new model with a wider chassis to improve stability, and which is perfect for vineyards and livestock farms with sloping fields.
Massey Ferguson IDEAL Harvesters: A range of new generation harvesters that promises to be a true revolution in performance and productivity for business-minded farmers. Among many other exceptional features, the models of the IDEAL range of Massey Ferguson have the highest capacity grain tank currently available in the European market, the fastest discharge rate and the largest threshing surface, all oriented to obtain significant improvements in efficiency and performance. A first limited release phase of the new combine harvesters is planned for 2018, while the full launch will take place in 2019.
Round balers MF RB: With an optimal and homogeneous bale shape, an improved design and high quality engineering, the new MF RB series is offered in five models. They provide a wide selection of fixed and variable chamber balers to perfectly match each user's requirements, including smaller livestock farms, mixed agricultural and larger-sized farms and professional contractors.
MF UHD Macro Baler: With an advanced and innovative engineering, the new MF 2370 UHD is the largest and best-performing rectangular bale baler manufactured to date in the world-famous Hesston factory in the United States. The new and impressive flagship model creates bales of maximum density, with a weight 20% higher than those produced by the current MF 2270 XD model. These bales of 120 cm x 90 cm more dense and heavy reduce handling in the field and transport costs, while optimizing the transport and storage capacity.
MF DM TL-V mower: Two new vertical folding disc mowers in the MF DM TL-V series further expand the options in the Massey Ferguson range of hay and forage machinery. All mowers are offered with the RC roller or KC tine conditioner option. With working widths of 3.1 m and 3.6 m, the new disc mowers are folded vertically behind the tractor for convenient and safe transport.
Telescopic MF TH.7030: Able to raise 3 t to 7 m, the new model MF TH.7030 further expands the dominant position of Massey Ferguson in the sector of telescopic semi-compact. With two cab positions and excellent maneuverability, this multi-purpose machine has been specifically designed to handle heavy loads in tight spaces.
Other news
In addition to its additions to its range of machinery, the firm has also presented Agritechnica Massey Ferguson Services, which covers periodic maintenance, extended warranty, technical support and connectivity services, which guarantees that every hour of operation of the machine is a success, to provide customers with the necessary support to carry out their operations efficiently and with minimal downtime.
Massey Ferguson means much more than a machine: it offers comprehensive business solutions focused on better profitability of investments in agricultural equipment and the increase in efficiency and profits
Massey Ferguson has also launched a series of Diamond promotions at the fair that provide even more value to the professional client. All Massey Ferguson high performance tractors will include these promotions and offers that will be maintained throughout 2018, coinciding with the 60th anniversary (diamond) of the Massey Ferguson brand.
Source: AGCO Group
YOU MIGHT ALSO LIKE:

https://ecomercioagrario.com/wp-content/uploads/2017/11/171120_novedades-Massey-Ferguson-Agritechnica.jpg
400
600
Redacción ECA
https://ecomercioagrario.com/wp-content/uploads/2022/01/banner-eca-ing.jpg
Redacción ECA
2017-11-20 16:25:46
2017-11-20 16:25:46
Massey Ferguson deploys its latest collection at Agritechnica 2017