September marks the end of the strawberry plant nursery season, a key phase for its subsequent transplantation in the production areas of southern Europe and Mediterranean arc countries.
EL PINAR currently has a growing market share in this area, thanks to the rusticity and adaptation of its materials to these producing areas.
This year, EL PINAR will market more than 200 million strawberry plants, having registered a significant growth in plant demand, especially for Victory and Primavera, as a result of its exceptional results in previous seasons. "Victory has shown that it is a variety with an unbeatable post harvest life, which responds very well to the needs of distribution and consumer demands, with uniformity of size and a differentiating color.", describes Jorge  Muñoz, commercial manager of EL PINAR.
The harvest season will begin from September 25 and will last until October 20, after an excellent productive and sanitary development of the plant.
Victory belongs to the Berry Genetics Inc breeding program, present in the market for several years, standing out for the good quality of its fruit and its long shelf life.
The demand for Primavera is also growing, especially in Huelva, Morocco, and Italy. Its precocity strengthens it as a hallmark, very focused on national or proximity markets.
Harvest and transplant
To ensure that the strawberry plant arrives in the best conditions, the harvest process begins a few days before, with the physiological stoppage of the plant once it has reached maturity. "Before the harvest, it is important that the plant moves all its nutrients to the crown and roots, so that in this process it suffers as little as possible", describes Jorge Muñoz.
The harvest of the plants starts at night, when temperatures are lower, and without breaking the cold chain those are transferred to the warehouses where are selected and packed, ready for transport to the production areas.
New varieties
To the current offer of EL PINAR , this year two new materials are added, Renewal and Alegria, whose commercial results we can already see with some farmers, in addition to its trial site in Lucena del Puerto, Huelva (Spain). It is a new line based on organoleptic qualities where Renewal and Alegria can have an important place.
In the case of Renewal, it stands out for its flavor and post-harvest, while Alegría does so for its earliness and high production for export markets.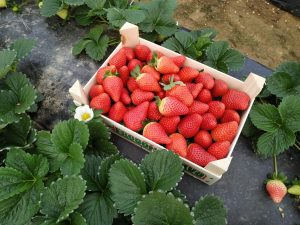 Victory pertenece al programa de Berry Genetics, presente en el mercado desde hace varios años destacando por la buena calidad de su fruta y su larga vida en el lineal.
La demanda de Primavera también crece, especialmente en Huelva, Marruecos e Italia. Su precocidad la afianza como seña de identidad, muy enfocada para mercados nacionales o de proximidad.
https://ecomercioagrario.com/wp-content/uploads/2021/09/victory-13.jpg
784
1050
Redaccion2 ECA
https://ecomercioagrario.com/wp-content/uploads/2020/05/ecaesp.jpg
Redaccion2 ECA
2021-09-13 09:20:11
2021-09-17 09:01:31
Important growth of the strawberry variety Victory