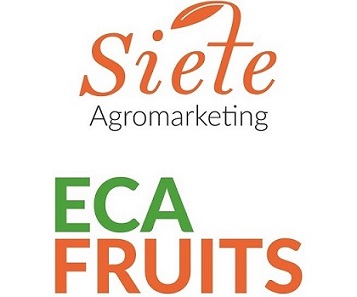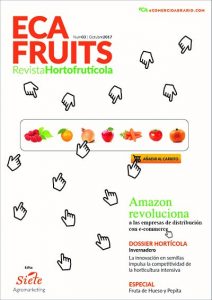 On the occasion of the celebration of Fruit Attraction, SIETE Agromarketing has just launched the digital version of its specialized magazine in the fruit and vegetable sector, ECA Fruits. At ECA FRUITS, we offer a complete analysis of the current situation of the fruit and vegetable sector, with special emphasis on its main political and economic clues, aspects such as innovation and R & D, distribution, challenges such as sustainability and internationalization with the opening of new markets … and all this reflected through the signatures of experts and recognized collaborators, monographic information and reports.
In our eagerness to continue informing about the current political and economic situation of the agri-food sector, with an unbiased, different and critical view, from e-Comercio Agrario (ECA) we consider it essential to rescue all our work over a year in magazines that , in addition to the horticultural sector, also dedicate themselves entirely to the olive and agricultural machinery.
ECA magazines are born with the desire to become a reference in the agri-food sector and serve as a guide and showcase for the main companies to show their activity, lines of action, advances and innovations and the markets to which they are directed. These publications aim to be a useful tool for information and consultation, through careful design and the good office of an expert team of professionals, made up of agricultural engineers, journalists, publicists and relevant collaborators.
About SIETE Agromarketing
SIETE Agromarketing is a communication and consulting agency specialized in the agro-food sector and with the vocation to build ties between Spain and the international market. It draws a wide knowledge and experience behind, thanks to the team of professionals that integrate it, with a wide
knowledge and experience behind us, because we know what we are talking about, and a long filming in the fields of communication and agri-food. Our goal is to bring value within these fields, as well as in the gastronomy, horticulture and culture. We create customized projects to introduce itself successfully and that the results grow in national and international markets, through the organization of events, training activities, product presentation, communication actions, press, workshops … WE COMMUNICATE YOUR IDEAS.
https://ecomercioagrario.com/wp-content/uploads/2017/09/170922_pastilla-ECAFruits_Fruit-Attraction.jpg
297
357
Redacción ECA
https://ecomercioagrario.com/wp-content/uploads/2022/01/banner-eca-ing.jpg
Redacción ECA
2017-10-17 07:08:43
2018-02-05 10:03:21
Get a new edition of ECA FRUITS in Hall 6 Stand 6A01B Seven Agromarketing in Fruit Attraction!