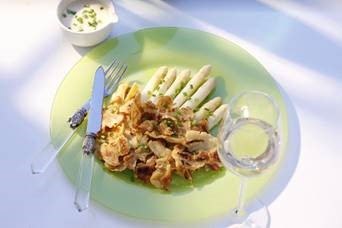 GO TO HELL! How many times have you not said or heard that expression? Normally, it is used to remove someone who is bothering from your side. This saying originated in the nineteenth century knowing that this vegetable is cooked with the first boil and to fry it, however, it takes much longer. Germans know little of the Spanish proverb, but they do cook with asparagus since it is one of the pillars of their seasonal cuisine and they are true experts in culinary creation with asparagus. But they go a little further and understand the tasting of this vegetable in perfect marriage with the local wines: to each asparagus their good wine arrives, they would say. Or better yet, tell us what dish with asparagus you like and we tell you which house came better.
And, to make known this delicacy and other German products, the German National Office of Tourism has launched the project "Germany Culinary", which aims to bring the extensive and varied culinary offer of the German country and will be held in Madrid on September 18, in Barcelona on September 19 and in Bilbao on September 27.
In this way, these three cities will be venues of this culinary event in which you can discover the secrets of German cuisine, especially the North Coast of Germany and Berlin.
In Madrid there will be a dinner in which, in addition to tasting a wide variety of German culinary specialties, you can enjoy a quartet of saxophonists arrived from Hannover for the occasion.
Participants in the Barcelona and Bilbao events will have the opportunity to learn how to prepare different dishes of German cuisine, since these meetings are set up as cooking workshops guided by the Masterchef contestant, Elena Sánchez, who has been in Germany collaborating with diverse chefs and approaching the native products of this country to be able to transmit their knowledge to the Spanish public.
Given the limited capacity of the three events, the German National Office of Tourism organizes a draw through Facebook -in www.facebook.com/destinoalemania- through which participants can win an invitation to attend and enjoy gastronomic encounters programmed.
In order to carry out the 'Culinary Germany' campaign, the German National Tourism Office has the support of the Goethe Foundation, an institution that promotes Spanish-German relations at the cultural level, and the close collaboration of the regions of Berlin and the Coast. North of Germany, as well as the German Wine Institute, who will present their specialties to the Spanish public at events in Madrid, Barcelona and Bilbao.
Wine and asparagus: delicious harmony for the palate
Asparagus (Spargel) is one of the foods that most passion awakens among Germans. White asparagus is a seasonal specialty that, between April and June, presides over the table of millions of German homes and restaurants. This popular vegetable, rich in minerals, trace elements and vitamins, provides only 20 calories per 100 grams, and combines perfectly with a light cuisine and a healthy lifestyle.
In Germany, asparagus is served as a main dish, accompanied with boiled potatoes, cooked or smoked ham and hollandaise sauce, or simply melted butter. They are also ideal for garnishing them with some fish or meat, preferably beef or pork.
Each asparagus comes his good wine
The best varieties of wine to combine with asparagus are those characterized by a delicate acidity, such as weißburgunder, silvaner, grauburgunder (pinot gris) or müller-thurgau, which also add dimension to the bitter nuances that white asparagus provide. For its particularity, the variety of silvaner grape with its aroma and spicy is recommended for asparagus that are prepared in the traditional German way: cooked "al dente" and covered with hollandaise sauce or melted butter and cooked ham.
Source: German National Tourism Office (ONAT)
YOU MAY ALSO LIKE:

https://ecomercioagrario.com/wp-content/uploads/2018/09/espa.jpg
228
342
Redacción ECA
http://ecomercioagrario.com/wp-content/uploads/2019/09/ecaing.jpg
Redacción ECA
2018-09-07 10:08:20
2018-09-10 00:11:28
German wine and asparagus arrive in Spain to conquer our palates