After five years exporting citrus fruits to the Chinese market, García Ballester strengthens his leading position in that market after the commercial alliance with the Asian distribution giant Hasvert Season.
By Marga López, agri-food journalist
The García Ballester companies, one of the oldest leading companies in the citrus export and marketing sector, and Hasvert Season have just signed a commercial alliance, from which all the production of oranges origin Spain that the Chinese distribution company commercialized in that country will be García Ballaster, that is, 30% of its entire volume of citrus.
I am supposing a strong support for García Ballester's business project, which for five years has been working on the export of quality citrus fruits to Southeast Asia, mainly China, Japan, Thailand and Korea among others. "The Chinese market is very marquis, it demands a Premium fruit, but we not only want to supply that richest social class, but to reach the middle class, which is the one that is really growing, and thanks to this agreement, we will have the capacity to reach that population, "said Jorge Ballester Monfort, Deputy Director of Management of García Ballester, during the visit to one of the farms in Palma del Río (Córdoba) certified for export to China, and that is the export protocols to China They are very strict and need prior certifications by farm.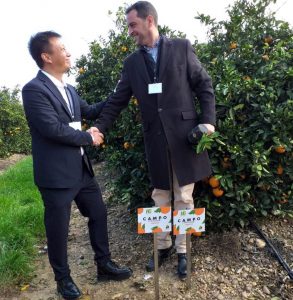 Currently Hasvert Season distributes to more than 5,000 supermarkets and Chinese markets, which means a large volume of production in terms of citrus. An export season that begins at the beginning of the year for García Ballester, once the Chinese production campaign ends, and runs until mid-May, when the last containers are shipped.
Quality fruit
Despite the fact that the Chinese market is very marquis, and in its choice the external aspect of the fruit is key, García Ballester, from the hand of Hasvert Season, has achieved that the Chinese consumer identifies his brand as quality fruit, not only external, but flavored fruit. This is allowing them to introduce other calibers and not only premium fruit in the markets. "For this we have had to go there, do a previous job on site, visit the markets, supermarkets, know what they demand," argues Jorge García, referring that they have their own staff that throughout the export campaign is in China, since the first container arrives at the Chinese ports until the last one is unloaded, to control the entire import process.
García Ballester, along with Hasvert Season, will carry several quality brands, flavored fruit, for these different segments of the population.
Campaign forecasts
When they have just started the export campaign to China, with the shipment of the first containers, García Ballester's forecasts thanks to this commercial alliance, is to go from the 100 containers that were sent last season, to 250 for this exercise, although as the field technicians point out, "everything will depend on the weather".
Two leading companies
The García Ballester company is already known as one of the oldest leading companies in the citrus export and marketing sector, as well as being a specialist in all types of fruits.
A business group based on tradition and evolution that values ​​and enhances new ideas and growth. His experience and professionalism, lead this exceptional company to obtain great results: more than 80 MM of kg of citrus fruits exported to Western Europe, USA, Canada, Eastern Europe, Asia, United Arab Emirates, Saudi Arabia, Brazil , Mexico, Korea and South Africa, with more than 70 million euros in sales and 60% of own production.
On the other hand, the firm Hasvert Season is a consumer-oriented company, specialized in the distribution and marketing of high-quality agricultural products and healthy foods worldwide.
A large company that aims to build a global industrial chain platform for trade, sales, processing and distribution of agricultural products and food.
The group's company has investment and cooperation in countries such as Thailand, Vietnam, Malaysia, the Philippines, New Zealand, Australia and other places to process and package the most famous local products, such as fresh fruits.
In addition, it is positioned as one of the companies with the most sales channels in the Asian continent, with China being one of its key and most important projects in the citrus sector, now with García Ballester.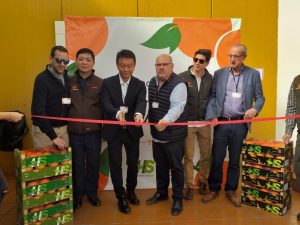 https://ecomercioagrario.com/wp-content/uploads/2020/02/whatsapp-image-2020-02-14-at-08-57-34-2-e1581667477405.jpeg
920
994
Redaccion2 ECA
http://ecomercioagrario.com/wp-content/uploads/2019/09/ecaing.jpg
Redaccion2 ECA
2020-02-17 14:53:31
2020-02-17 14:53:31
García Ballester consolidates its export to China with Hasvert Season