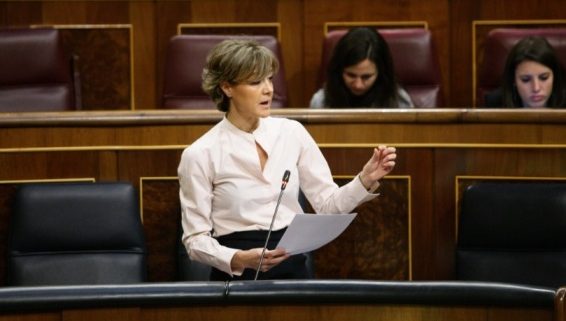 The Minister of Agriculture and Fisheries, Food and Environment, Isabel García Tejerina, has assured that the Spanish Government is working so that the protocol proposed by the Canary Government for the elimination of the Guatemalan Moth is approved in the European Union, so that the Canary Islands potato can be exported back to EU territory. Protocol which, in its day, was sent to the European Commission and whose approval is currently being negotiated.
In her reply to the question posed in the plenary session of the Congress by the Canarian Mixed-Coalition Group on the authorization of the Canary Island potato to leave the peninsula, García Tejerina has stated that Community legislation establishes a phytosanitary regime of special protection for Canary Islands.
This regime, which has been permanently requested by the different Canarian governments, has made it clear that it is the European Union, and not the Spanish Government, who sets the conditions under which Canary Islands agricultural products can be introduced into the rest of Spain.
In accordance with Community legislation, the introduction of the Canarian potato in the European Union was banned because of the presence, since 1999, of the plague of Guatemalan moth in Canarian territory
On the other hand, the Minister has pointed out that the Royal Decree establishing the National Program for the Control and Eradication of Guatemalan Moth is not a rule to establish conditions of movement, but rather aims to avoid dispersion and raise the Eradication of this pest, which is considered to be quarantine for the European Union.
For this reason, García Tejerina insisted, it is up to the European Commission to make the appropriate proposals, and negotiations will continue in that framework, to achieve the approval of the protocol for the elimination of the pest, which the Ministry has also supported, including as a mitigation measure in the Royal Decree on control and eradication of Guatemalan moth.
Source: MAPAMA
YOU MIGHT ALSO LIKE:
https://ecomercioagrario.com/wp-content/uploads/2017/04/170406_ministra-congreso_patata-canaria.jpg
424
566
Redacción ECA
https://ecomercioagrario.com/wp-content/uploads/2022/01/banner-eca-ing.jpg
Redacción ECA
2017-04-06 10:30:25
2017-04-06 10:30:25
EU: Spain will defend approval of the protocol proposed by the Canary Islands to eliminate Guatemalan moth