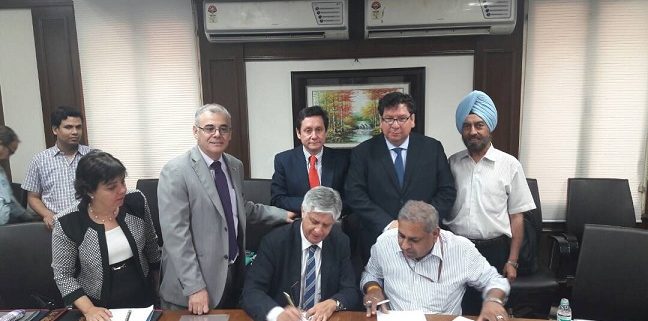 From next season, Chile will be able to export avocados and fresh blueberries to India, after recently closing an agreement with the authorities of this country, in very advantageous conditions. An achievement achieved in the context of a public-private visit to India, headed by Undersecretary of Agriculture, Claudio Ternicier.
Together with the Undersecretary, the Chilean delegation was composed of the head of the Division of International Affairs of the Agricultural Service Livestock (SAG), Verónica Echávarri; the General Manager of the Association of Fruit Exporters of Chile (ASOEX), Miguel Canala-Echeverría; the Chief of the Agricultural and Forestry Protection Division of SAG, Rodrigo Astete; the Chilean Ambassador to India, Andrés Barbé; and the Agricultural Aggregate of Chile in that country, Jaime González.
In the words of Ternicier, "this agreement has been possible thanks to a joint public-private work that has been prolonging for a long period and in which there have been long negotiations and visits between representatives of both countries. This agreement includes certification by means of Phytosanitary Inspection of pests of Indian interest for blueberries, as well as certification of fresh avocados from Chile to India through Systems Approach".
For his part, the Chilean Ambassador to India, Andrés Barbe, pointed out that India currently receives imports of avocados from New Zealand and blueberries from the United States and Canada, since there is no local production of such fruits, which means enormous commercial possibilities for both Chilean products, especially at the level of hotels and fruit shops.
This agreement will allow the diversification of Chile's foreign sales and the addition of avocados and blueberries to exports of apples, grapes, kiwis, pears and cherries, thus increasing its presence in India
For his part, and on behalf of the private sector, Miguel Canala-Echeverria said that "the agreement signed in Delhi is excellent news for the fruit industry and will allow us, starting next season, to start exports of blueberries and avocados, after more than 10 years of complex negotiations. "
During the public-private visit, and in an attempt to improve access to other Chilean products, the Chilean delegation raised other alternatives to fumigation with methyl bromide currently being made to nuts, and a deadline was set for the analysis access to dehydrated plums of Chile without fumigation. It should be noted that during this meeting the representatives of the government of India, requested the speed in the opening of products of interest, such as mangos and grenades
Fruit exports to India
During the 2015-2016 season, Chile exported more than 35 thousand tons of fresh fruits to India, which represented an increase of close to 70% in relation to the 2014-2015 campaign
This shows the importance that the market of India for Chile's fresh fruit exports gradually acquires.
Of the more than 35 thousand tons, 89.9 corresponded to red apples, 9% to kiwis, 0.8% to table grapes, 0.3% to fresh plums, and 0.1% to cherries and Pears, respectively.
Source: Ministry of Agriculture of Chile
YOU MIGHT ALSO LIKE:
https://ecomercioagrario.com/wp-content/uploads/2017/05/170530_firmaacuerdoChile_India.jpg
486
648
Redacción ECA
https://ecomercioagrario.com/wp-content/uploads/2022/01/banner-eca-ing.jpg
Redacción ECA
2017-05-30 12:31:08
2017-05-30 12:31:08
Chile: India opens doors to its exports of fresh avocados and blueberries