The agri-food sector has joined in the V National Business Agro Women Agroprofessional Forum (#MujerAGRO) to make visible and bet on women with the aim of raising awareness in administrations and decision-making bodies, the importance of incorporating more women in governance positions and representation. Under the slogan "The future has the name of rural women", the event organized by Siete Agromarketing and eComercio Agrario, has taken place in the Botanical Garden of Valencia, and has been able to follow in person and through our channel, with more than 300 views.
The event has been followed in person and through our channel, with more than 300 views and more than 100 participants in RRSS, exceeding 1,000 tweets and retweets.
Moderated by Inés Ballester Muñoz, journalist and presenter and Vicente Cabanes Albert, Director of Communication of the Committee of Ecological Agriculture of the Valencian Community (CAECV), the V Forum has had an institutional inauguration by M.ª Vicenta Mestre Escrivà, Rector Magnificent from the University of Valencia, who has ensured that there is a gender gap in agriculture that, as in other sectors, we must debate: "We must continue to fight against stereotypes, ensuring the safe and respectful integration of women in the field" . The Director of Siete Agromarketing, Gissele Falcón Haro, announced that from the Women Agro Project we continue working to give greater visibility to agro-professional women. For this reason, the IV edition of the Women Agro Awards, whose call will open on July 8, will have a new category based on technology; Agro-Food Tech Woman.
After her speech, Mireia Mollà i Herrera, Regional Minister of Agriculture, Rural Development, Climate Emergency and Ecological Transition of the Valencian Community, announced the creation of the 1st Valencian Strategic Plan for Rural Women, which will contemplate all the measures and actions to be developed to promote effective equality in rural areas: "We have to identify rural women and empower them in order to overcome the inequalities and discrimination that exist in various areas."
On the other hand, Margaret Bateson-Missen, Directorate-General Agriculture and Rural Development and Responsible for the Management of 4 Rural Development Programmes as well as social inclusion and rural broadband and he Equality Coordinator in DG AGRI supporting the work of our Commissioner Dalli – first ever Commissioner for Equality in the Commission. "Spain is one of the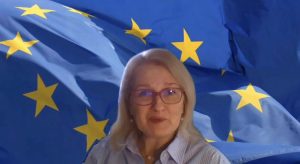 main actors in the EU and a country that defends equality with regard to women's rights in agriculture and in rural areas." "We in the Commission and DG AGRI are very much concerned about those inequalities and we want to see a better positioning of women, particularly rural women in the CAP"
Four round tables
The event began with the table Inclusion and gender perspective in agri-food communication work, where we had Raquel Fuertes Redón, Manager at SUCRO (Valencia Fruits); Toya Vázquez Verdera, Head of Curricular Sustainability Initiatives of the Vice-Rectorate for Equality, Diversity and Sustainability of the University of Valencia; Yolanda Díaz Villarrubia, Expert in Equality and HR Management and Innovation, Director of the Startups Tech Area of ​​the HR Tech HUB intl., Co-founder WA4STEAM, AMIT-MIT Coordination Committee, President AMYL, Global Women Leaders committee WBAF; and Nuria Martínez Barea, Director of the Association for the promotion of the consumption of fruits and vegetables "5 a day". During this roundtable, the importance and responsibility of the media when it comes to reporting with a gender perspective and raising awareness in society when instilling values ​​and principles in equality and parity was highlighted.
Under the title The role of agroprofessional women in Emptied Spain, they have participated in the debate Pilar Alguacil Marí, Director of the Agroalimentaria Cooperative Chair; Antonio Aparicio Peña, Director of HR and CSR at Pastores Grupo Cooperativo; Elvira Chorques Pareja, Veterinarian, Rancher and Secretary of the National Association of Guirra Breed Ranchers (Anguirra); and Mireia Vidal González. General Secretary of the Coordinadora Campesina de País Valencià – COAG. During this table, it was possible to exchange ideas and personal stories that our speakers wanted to share, highlighting the role of women in towns with less than 1,000 inhabitants, shifting the focus of attention to the need for basic services to ensure such an activity. essential in Emptied Spain and for all of society, such as the agri-food industry.
The third table has focused on agri-food sustainability and the role of women in climate change, in the face of the unstoppable wave of women agronomists who each day assume more tasks of responsibility, as something natural and that it is necessary to visualize. This table was attended by Jesús Regodón Ruiz, Director of the TROPS R + D + i and Sustainability Department; Gemma Matos del Barrio; Head of the Women's Institute Service; José Carbonell Castelló, Technical Secretary of the Official College of Agronomists of Levante and Sierra Bacarizo Jiménez, Pepper Breeder and coordinator of the EMEA breeding group of Sakata Seed
The fourth and last table under the title Diversity, Inclusion and Equality in the management of companies: Do we understand its importance ?, has had Yolanda Morán Gallén, General Director of Mon Orxata; Enrique Bellés Llopis, Director of Cooperatives Agro-alimentary of the Valencian Community; Isabel Navarro Berlanga, Professional Viticulturist and Member of the Executive Commission of the Unió de Llauradors and José Antonio Rico. President of the Committee of Ecological Agriculture of the Valencian Community (CAECV). This debate has sought to value the projects that are being carried out in the agri-food business fabric and the importance of having inclusion plans and conciliation policies for women in companies.
Institutional Closure
Isabel Bombal Díaz, General Director of Rural Development, Innovation and Agrifood Training of the Ministry of Agriculture, Fisheries and Food, participated online in the closing ceremony. During her participation, she has provided information on parity: "There is no effective equality in this sector and evidence of this is the data. Only 37% of women are beneficiaries of direct aid, receiving an amount of € 4,244 compared to men, which is € 4,244. € 6,225 ". The MAPA and after the meeting of yesterday June 28 on the new reform of the CAP, has presented a Royal Decree in which aid will be incorporated to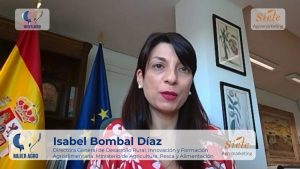 women owners of farms with the need to recognize their work and greater visibility. In addition, the MAPA will have more than 30 billion euros of aid for the entire agri-food chain.
Finally and on behalf of the Mayor of the City of Valencia Joan Ribó, the Vice Mayor Sergi Campillo wanted to thank the organization for making this event possible in which equality is discussed and especially equality in the agri-food sector. "The V Forum has helped to reflect on all the impediments that the patriarchy has placed on us for so many years," concluded the Vice Mayor.
Companies that support Agro Women
More and more companies are joining this project with a common goal; give visibility to agro-professional women. This event, carried out by Siete Agromarketing and eComercio Agrario 5 years ago, could not be possible without the support of a network of companies committed to equality. More than twenty agri-food companies, national, regional and local institutions, agricultural organizations and university centers have wanted to support the V Foro Mujer Agro.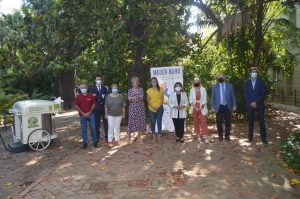 This V National Women Agro Forum has been sponsored by Cooperativa CASI, COVAP, LIDL, Caser Seguros, SAKATA, ONUBAFRUIT, BAYER, CAJAMAR, AEFA, TROPS, FEDEMCO, and FRUTAS OLIVAR; as collaborators: UNICA, Universidad de Valencia yVicasol, also  Cooperativa Agro- alimentarias de España, AMCAE Asociación de Mujeres de Cooperativas Agro-alimentarias de España, Cooperativas Agro-alimentarias de la Comunitat Valenciana, Cátedra Cooperativas Agroalimentarias, Comité de Agricultura Ecológica de la Comunitat Valenciana (CAECV), Colegio Oficial de Agrónomos de Levante (COIAL), Asociación Nacional de Ingenieros Agrónomos (ANIA), La UNIÓ de Llauradors i Ramaders, AVA-ASAJA, Asociación de Mujeres y Familias del Ámbito Rural (AVAMFAR), Asociación para la promoción del consumo de frutas y hortalizas 5 al día, Coordinadora Campesina del Paìs Valencià – COAG, Organización Interprofesional Láctea (INLAC), GLOBAL WOMEN FRESH and Instituto de las Mujeres.
As a media partner, the specialized magazines Valencia Fruits, Fruit Today and  eCA FRUITS,  eComercioAgrario.com, Agronews CV y Muy Segura as well as the El Forcat radio program, will ensure maximum dissemination of the event.
https://ecomercioagrario.com/wp-content/uploads/2021/06/mesa-1.jpg
698
1050
Redacción
https://ecomercioagrario.com/wp-content/uploads/2022/01/banner-eca-ing.jpg
Redacción
2021-06-29 19:19:52
2021-07-05 15:09:53
The agri-food sector advances towards the construction of an egalitarian rural world