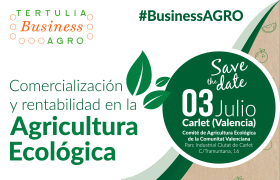 The meeting will take place on July 3, in Carlet (Valencia), where experts in production, marketing, supplies, public administrations and private entities will show us the main guidelines to achieve a profitable organic production adapted to the new demands of the consumers.
Spain occupies the first place in Europe in terms of area devoted to organic production, with more than 2,082,000 hectares in 2017, according to the latest report from the Ministry of Agriculture, Fisheries and Food, and the fourth worldwide, only from behind from Australia, Argentina and China.
These are figures that indicate a strong increase in the last 10 years, of around 110% (988,323 hectares in 2007), and the advances of 2018 made public by the Ministry of Agriculture last April point to an increase of 5% in terms of area, 6% in the number of operators and 11% in number of bio industries.
We are therefore facing a thriving, growing sector, which nevertheless is still debated whether it is a trend or a trend. What is clear is that both producers, marketers and retail have found in this line of business arguments for their differentiation.
In this context, the Community of Valencia is, together with Catalonia, the community with the highest volume of business generated in 2018 within the scope of organic production, with 452.4 million €. This figure represents 25% of the market value of the consumption of organic products throughout Spain, which reaches € 1,805 million.
Given these figures, and the magnitude of this agricultural segment, Siete Agromarketing under its brand Business Agro organizes, together with eComercio Agrario, this Tertulia #BusinessAgro in collaboration with the Committee of Ecological Agriculture of the Community of Valencia and the Unió de Llauradors, convinced of that when meeting around this subject of as much journalistic interest as it is the ecological production under a dynamic and innovative format, we invite to the dialogue and the reflection on the challenges to continue gaining in commercialization and profitability.
Structured in a dynamic format, with interventions based on questions planned by a moderator, expert journalist in agri-food issues, the Tertulia presents two blocks. The first one will be about Profitability and the winning keys for an optimal production; and in the second block we will have a gathering of experts who will address issues focused on marketing.

Sponsors



As a first level event, companies of the stature of Compo Expert join this Tertulia as sponsors, in addition to the Demoagro Specialty fair, which will take place on October 1,2 and 3 in Turis (Valencia).
Attached invitation to the event
More info: mlopez@sieteagromarketing.com / Telf. ​​640 82 35 88

https://ecomercioagrario.com/wp-content/uploads/2019/06/280x180.png
180
280
Redacción ECA
http://ecomercioagrario.com/wp-content/uploads/2019/09/ecaing.jpg
Redacción ECA
2019-07-01 13:35:35
2019-07-01 13:35:48
Carlet hosts the Tertulia #BusinessAGRO on Commercialization and Ecological Profitability