Siete Agromarketing and agricultural e-commerce, have the pleasure of inviting you to the '2nd National Forum Agribusiness – Agro-Professional Women', a meeting point that will open its doors in Toledo on June 27.
Under the slogan: 'Equality is a task for everyone', it is the reference event that brings together more than 200 women and men managers, professionals, entrepreneurs and entrepreneurs of the entire agri-food chain in order to make visible the work developed by women in the sector.
For Gissele Falcón, director of Siete Agromarketing: "Our initiatives aim to provoke dialogue and raise awareness about the role of professional women in the agri-food sector, while generating an interesting and necessary debate on the subject".
The importance of achieving a greater share of representativeness and prominence of women
One of the main conclusions of the 1st Edition of the Forum, held on June 7, 2017 in Seville, was the need to achieve equality in the sector, something that will only be possible when companies and their managers get involved with this challenge . And it is that "a real incorporation of women is necessary to make visible their activity in a sector in which there are still few that integrate it actively", argues Falcón.
The confirmation of assistance is made through an email sent to: mujeragro@sieteagromarketing.com, or by clicking here. (Limited capacity).
YOU MAY ALSO LIKE: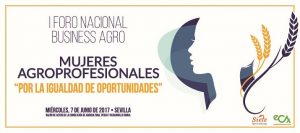 http://ecomercioagrario.com/wp-content/uploads/2018/06/agro.jpg
177
565
Redacción ECA
http://ecomercioagrario.com/wp-content/uploads/2015/09/logo1.png
Redacción ECA
2018-06-11 12:30:05
2018-07-19 20:57:01
Toledo will host the 2nd National Forum Agribusiness - Agrifood Women