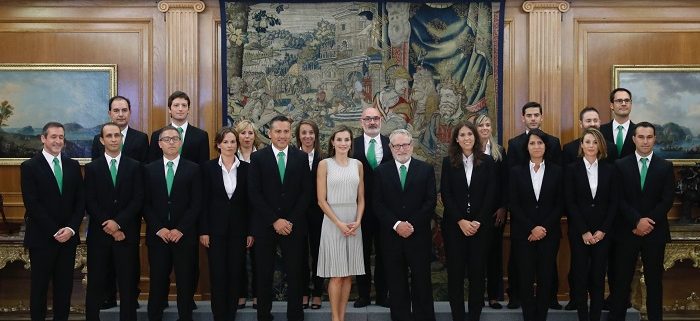 A representation of Idai Nature has had the opportunity to make known recently to S.M. the Queen Letizia the value proposition of this company, based, as explained by its general director, Carlos Ledó, "in an innovative natural technology that allows the cultivation of fruits and vegetables without chemical residues, from natural solutions made from extracts botanists and minerals".
A commitment to sustainability, which Ledó expresses as follows: "we cure plants with other plants, without using chemicals, without polluting the environment and thus enabling a healthy and safe food for the population".
During the hearing, they talked about the raw materials they use in their formulations, their effectiveness and the beneficial effects they have for the environment to use their products
Idai Nature emphasized in its meeting with the Queen the importance of its activity for present and future agriculture, since "it will soon be normal for supermarkets to point out foods that have been cultivated with pesticides to warn the consumer", has affirmed Carlos Ledó.
With subsidiaries in Mexico, Turkey, Algeria and the US, the company exports its fertilizers to 31 countries, a foreign business that represents 50% of its revenues
In addition to the aforementioned destinations, Italy, France, Morocco, Egypt, Iran and Chile are their most relevant markets.
Social Commitment
Idai Nature has explained to Doña Letizia that in addition to divulging the importance of consuming food without chemical residues all over the world, this company carries out a large number of CSR projects. Thus, it collaborates with environmental organizations, with the Spanish Association Against Cancer and the Healthy and Sustainable Foundation. Also note that it supports financially an NGO operating in Senegal and teaches local people to cultivate their gardens in a sustainable way.
Source: Idai Nature
YOU MIGHT ALSO LIKE:

http://ecomercioagrario.com/wp-content/uploads/2017/09/170911_Reina_Idai-Nature.jpg
467
700
Redacción ECA
http://ecomercioagrario.com/wp-content/uploads/2015/09/logo1.png
Redacción ECA
2017-09-11 07:28:27
2017-09-11 07:28:27
The Queen knows the commitment to sustainability of Idai Nature