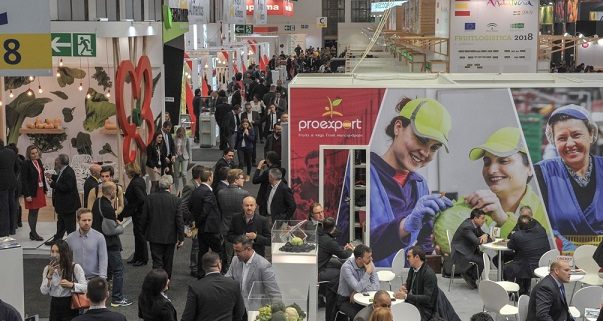 The massive presence of the horticultural sector in FRUIT LOGISTICA 2018 consolidates this fair as the benchmark in its segment. The professional visitors and exhibitors – more than 77,000 professionals with decision-making power from more than 130 countries – have excellently evaluated their passage through it. After this edition, the eyes are already on CHINA FRUIT LOGISTICA, which will take place next May in Shanghai. And a few months later, in September, ASIA FRUIT LOGISTICA, in the city of Hong Kong.
For three days, Berlin has become the capital of the global fresh products sector thanks to the edition of FRUIT LOGISTICA 2018. From February 7th to 9th, more than 3,100 exhibitors from 80 countries have shown their wide offer to the world market. For Will Wollbold, Global Brand Manager of this fair, "FRUIT LOGISTICA has made clear its position as the leading monographic fair of the global fruit and vegetable trade. We have welcomed more than 77,000 professional visitors with decision-making power, a milestone in the history of this fair, who have given the touch of quality to this year's edition. Our assessment of the commercial results obtained is very positive ".
FRUIT LOGISTICA has received the best marks in the 2018 edition, both of the exhibitors and of the professional visitors. 90 percent of the exhibitors had a general impression from excellent to very positive
In the three days of FRUIT LOGISTICA the roadmap that will lead to the success of the business for the whole year is defined: during the fair 46 percent of the exhibitors have been able to close commercial contracts. And in addition, around 90 percent trust that the post-sale business will be satisfactory or very satisfactory.
One of the main objectives when participating in FRUIT LOGISTICA 2018 was, in the opinion of the exhibitors, "the relationship with customers, the representative effect and the search for new contacts", a thought totally in line with the philosophy of the fair.
95 percent of the participants recommend the fair to other people in the sector. 96 percent of the professional visitors consider the result of their visit to the fair as positive. On the other hand, 83 percent established new business contacts. More than three quarters of the visitors expect the contacts to end with specific businesses, that is, commercial operations after the fair.
The professional public that attended FRUIT LOGISTICA 2018 was characterized by a markedly international cut, by high competition and by the power of business decision. 82 percent of the professionals arrived from abroad. The quality of the professionals, in relation to their power of decision, remained at the same level as in previous editions. More than two thirds of those who attended the event held a management position in their company.
FRUIT LOGÍSTICA in the world
CHINA FRUIT LOGISTICA opens its doors for the first time in Shanghai from May 14th to 16th. This fair has been designed as a national platform for the supply of fruits and vegetables for the consumption of fresh products within China, www.chinafruitlogistica.cn
ASIA FRUIT LOGISTICA will be held from September 5th to 7th for the twelfth time. It is the leading platform for the fruit and vegetable trade in Asia. Last year, 800 exhibitors from 43 countries and 13,000 visitors from 76 countries participated in Hong Kong, www.asiafruitlogistica.com
And of course, you can already book the days 6 to 8 February for FRUIT LOGISTICA 2019 in Berlin, www.fruitlogistica.de
Source: FRUIT LOGÍSTICA
YOU MIGHT ALSO LIKE: 

http://ecomercioagrario.com/wp-content/uploads/2018/02/180214_presencia-masiva-en-fruit-logistica_red.jpg
402
603
Redacción ECA
http://ecomercioagrario.com/wp-content/uploads/2015/09/logo1.png
Redacción ECA
2018-02-14 11:03:24
2018-02-14 11:03:24
The massive presence of the horticultural sector in FRUIT LOGISTICA 2018 consolidates it as a reference fair