The Rioja Alta, La Rioja Alavesa, the interior of Murcia and the adjoining land of Granada and Almeria make it possible to supply broccoli to the national consumer during the summer, due to the mild climate in the summer. In the rest of the zones, where this vegetable is produced in the winter and spring months, most of the companies that cultivate paralyze their work until September, due to the high temperatures and low rainfall density.
As detailed Javier Bernabéu, secretary of the Association + Broccoli, "there has been a slight growth of between 2 and 3%, compared to last year, in the hectares dedicated to the cultivation of broccoli in summer." In 2017, 85% of deep-frozen production was exported, according to data from the Spanish Association of Frozen Vegetable Manufacturers (Asevec), which belongs, in turn, to + Broccoli.
The production of this vegetable needs cold. That is why in summer it moves to the mountains and in winter to the coastal areas in search of cooler places. Between June and September, in the cultivation areas of Granada, Almeria, La Rioja Alta, La Rioja Alavesa and the interior of Murcia reach 35º during the day, but when the sun goes down they plummet to 18-20º. These temperature changes ensure the optimum growth of the vegetable and that it retains the high nutritional value that characterizes it and that made it worthy of the nickname of 'superverdura' by the CEBAS-CSIC.
Currently, this Spanish cruciferous is one of the products that goes to the frozen. In 2018, it is expected to reach 115,000 tons of broccoli for this industry process, compared to 108,000 in 2016, according to Asevec.
For its part, broccoli prices, both for fresh and for industry, have improved over the last five months: from January to May they remained below 30 cents and now exceed 40 cents.
The awareness work of + Broccoli
The non-profit association + Broccoli aims to increase the consumption of broccoli and raise awareness about its beneficial effects on health. It brings together farmers, marketers, researchers, nutritionists, restaurateurs and all those related entities and people interested in spreading the benefits of this cruciferous cataloged as 'super vegetable' by the CEBAS-CSIC.
YOU MAY ALSO LIKE: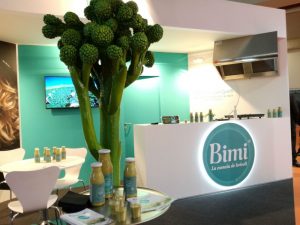 http://ecomercioagrario.com/wp-content/uploads/2018/07/brocoli.jpg
666
1000
Redaccion2 ECA
http://ecomercioagrario.com/wp-content/uploads/2015/09/logo1.png
Redaccion2 ECA
2018-07-26 11:59:27
2018-07-25 22:02:54
The hectares dedicated to growing broccoli grow about 3% this summer