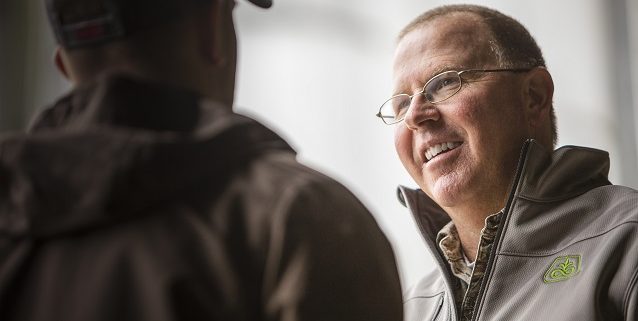 The National Association of Corn Producers (NCGA) made public last December 18th the result of its production contest of 2017, proclaiming the victory of David Hula. With a harvest of 542 bushels per acre at 16% humidity (equivalent to 33,444 kg / ha at 14% humidity, according to European parameters) the farmer of the state of Virginia broke the record that he himself held since 2015.
To achieve this new record, David Hula planted Pioneer® P1197, genetically modified hybrid whose sale in Europe is not allowed by the current EU legislation on GMOs
The NCGA distinguished with nine national and 191 state awards farmers who had planted Pioneer hybrids.
"When you join our leading products with the service of DuPont Pioneer technicians, there are no limits to what farmers can achieve. This new NCGA world record shows it", said Judd O'Connor, director of DuPont Pioneer for North America.
Pioneer products made a difference in this year's contest, with more than 300 bushels than any other competing brand. Pioneer farmers took almost half of the state awards, confirming the brand's leadership
"We are proud of the result of our products for farmers. Regardless of their handling, Pioneer products have proven to have a strong agronomic base that allows them to compete in a wide variety of conditions," O'Connor said.
The NCGA Corn Yield Contest is an annual US contest. UU that develops among corn farmers in order to capitalize on the high genetic yield potential of today's corn hybrids
This contest also encourages the development of sustainable and innovative management practices that result in higher yields.
DuPont Pioneer is the world leader in the development and supply of genetically advanced plants, providing high quality seeds to farmers in more than 90 countries. Pioneer offers agronomic support and services to help increase the productivity and profitability of farmers, while striving to develop sustainable agricultural techniques for the world's population.
Source: DuPont Pioneer
YOU MIGHT ALSO LIKE:

http://ecomercioagrario.com/wp-content/uploads/2017/12/171227_davidhula-pioneerseed.jpg
425
638
Redacción ECA
http://ecomercioagrario.com/wp-content/uploads/2015/09/logo1.png
Redacción ECA
2017-12-27 15:23:43
2017-12-27 15:23:43
The American David Hula beats again a new world record in corn production