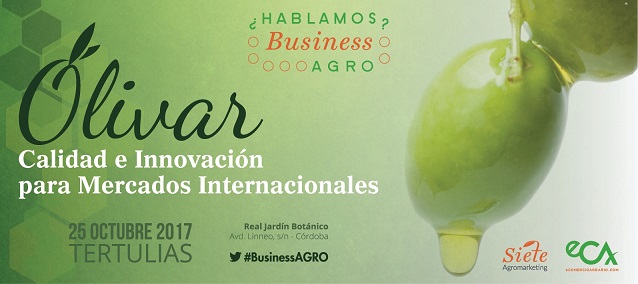 On October 25th, the Royal Botanic Garden of the capital of Cordoba will host the II Tertulia Business Agro on the olive sector, "Olivar: quality and innovation for international markets". This event, organized by e-Commerce Agrarian (ECA) and SIETE Agromarketing, a communication and consulting agency specialized in the agro-food sector, hopes to repeat the success of the call and participation of its previous edition, celebrated last November 15th in Toledo , thanks to a careful program that includes the interventions of leading experts and professionals in the sector.
Quality and innovation as keys to competitiveness in foreign markets is the axis on which the presentations of this Conference will be structured, with a strong emphasis on the internationalization of companies in the olive sector
A meeting that can not miss entrepreneurs of the sector, mills, technicians, farmers, etc. This meeting, moderated by the food journalist Ana Isabel Sánchez, will begin at 9.30 am, with the reception of guests. At 1:00 a.m., the inaugural session will be held, at 10:30 a.m., the presentation "Keys to a Quality Production", and at 11.45 pm, the International Markets Expert Meeting. At the end of the event, the block of conclusions will be given, which will put the finishing touch to this event. The two social gatherings and their subsequent questioning by the public will be disseminated in real time, through social networks (twitter and facebook).
In this II Tertulia Business Agro on olive is expected to gather about 150 professionals linked to the olive sector, with the collaboration of ASAJA Córdoba, the cooperative group DCOOP, Extenda – Andalusian Agency for Foreign Promotion and the Ministry of Agriculture, Fisheries and Rural Development of the Junta de Andalucía (CAPDER). This interesting dialogue with the best experts in the olive sector, sponsored by relevant brands in the sector, will also have the collaboration of Bureau Veritas and World Olive Oil Exhibition (WOOE).
For more information and / or confirmation of attendance please contact us by sending an email to: eventos@sieteagromarketing.com | Tel .: 656 39 48 75
* Essential confirmation of attendance by limited capacity
YOU MIGHT ALSO LIKE: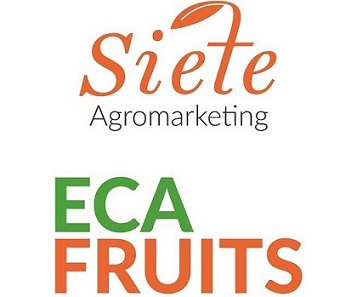 http://ecomercioagrario.com/wp-content/uploads/2017/10/171009_banner-Tertulia-Córdoba.jpg
284
638
Redacción ECA
http://ecomercioagrario.com/wp-content/uploads/2015/09/logo1.png
Redacción ECA
2017-10-10 06:50:45
2017-10-13 18:20:47
The 2nd Tertulia Business Agro on the olive sector already heats engines