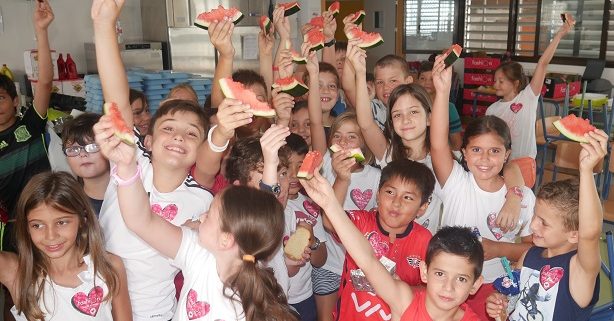 In the wake of the excellent reception of the first edition of the promotional campaign in the AGF Fashion Group, "For Fruit Consumption in the Smallest", for the second consecutive year this initiative has culminated successfully, bringing healthy breakfasts based on fruit, specifically Watermelon Fashion, about 10,000 children from national schools.
Due to the excellent reception of the first edition, this campaign has considerably expanded the number of schools to reach.

In this second edition have been multiplied by three tastings of watermelon Fashion in schools, with the intention of continuing to increase them in subsequent editions

The Fashion team has visited a total of 20 schools, passing through the provinces of Granada, Almería, Alicante, Valencia and Tarragona. The number of boys and girls who have reached around 10,000 and have distributed some 36,000 wedges of watermelon Fashion among them.
AGF Group is aware that there are numerous scientific publications that support the nutritional benefits of daily fruit consumption:

• Prevention of certain cardiovascular diseases
• Prevention of some types of cancer
• Prevention of diabetes and obesity, especially in the first years of life
According to studies by the Andalusian Regional Ministry of Agriculture, Fisheries and Rural Development, Andalusian households are below the national average for fruit consumption. For all these reasons, the AGF Group has chosen and wanted to contribute its grain of sand so that this situation may reverse in the future, raising awareness of parents and children about the need to increase the consumption of daily rations of fruit.
AGF Fashion Group will continue until the end of September, carrying out work and activities in favor of the consumption of fruit, especially watermelon, taking advantage of various sports and leisure events, to bring the healthy message that fruit is an indispensable food in all Spanish households.
Source: AGF Fashion Group


http://ecomercioagrario.com/wp-content/uploads/2017/07/170717_sandía-fashion-en-colegios2.jpg
515
614
Redacción ECA
http://ecomercioagrario.com/wp-content/uploads/2015/09/logo1.png
Redacción ECA
2017-07-17 10:11:05
2017-07-17 10:11:05
Some 10,000 schoolchildren tasted healthy breakfast with fruit, by the AGF Fashion Group