The seed house Ramiro Arnedo has held a few days ago in El Ejido open days, to publicize their new red pepper varieties. During two days, more than 250 farmers and technicians of the main commercializing companies of the province could know the new material of Ramiro Arnedo. These are the varieties Sanabria F1, Mauricio F1 and Ercina F1 with which this Spanish company completes the growing cycles from the early to the late.
Sanabria F1 is the variety for the early season of Ramiro Arnedo, a pepper for transplants in June, easy to set and whose plant goes fast in production
The plant of this extra-early variety is of medium-low vigor and its fruit of G-size is "very homogeneous. In addition, the change from green to red is "very fast", as assured by Pablo García, Ramiro Arnedo's technician.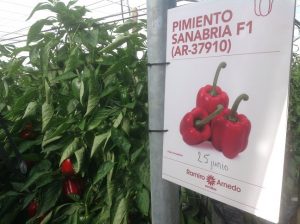 The fruits of Sanabria F1 are squares with an intense red color and with a lot of luster and, also, this variety stands out for being easy to collect and for its almost total absence of silverelin.
According to Ramiro Arnedo, Sanabria F1 is a variety "ideal for export" because it has a "perfect G" and a "super brightness"
The second of the novelties of Ramiro Arnedo is Mauricio F1, a pepper that is recommended for transplants from July 5 to July 20 and that is characterized by "its intense red color and for having a very high brightness". In addition, this variety provides a square fruit with GG caliber that makes it very attractive for production and marketing. From the seed house they add that the characteristic that can make this pepper a reference in the field is "its great consistency".
The last of the novelties that could be seen during the field days was Ercina F1, a variety for late transplants that is "very productive".
Ercina F1 has a high percentage of GG caliber and has very attractive red fruits
With these varieties, Ramiro Arnedo completes its catalog of red California peppers for all cycles since for the middle cycle the seed house already has Merlot, a GG-grade pepper that is well established in the Almeria countryside, while for late house of seeds already bets by another variety as it is Enol, a pepper of calibrate G, with good resistance so much in plant as in postharvest.
Source: Ramiro Arnedo

http://ecomercioagrario.com/wp-content/uploads/2017/12/171206_Ramiro-Arnedo1.jpg
484
648
Redacción ECA
http://ecomercioagrario.com/wp-content/uploads/2015/09/logo1.png
Redacción ECA
2017-12-07 07:00:28
2017-12-07 07:00:28
Ramiro Arnedo innovates with new red california peppers: Sanabria F1, Mauricio F1 and Ercina F1