The Minister of Agriculture, Fisheries and Food, Luis Planas, in closing of the delivery of the prizes 'Pascual Startup h', has highlighted the need to continue opening doors to the agri-food sector, promoting the integration of the digital revolution to achieve its growth. "The digital revolution is a reality and the agrifood sector is not going to be left behind" said Luis Planas, emphasizing the importance of supporting and encouraging innovation in all areas of the sector, as a basis to boost its future wealth and development .
However, he added, "innovation is not only the incorporation of new technologies, but it must go further, anticipating the needs of the consumer and the demands of the market."
The minister, who has today closed the act of delivery of the Pascual Startup Awards, the first institutional act of his mandate, has highlighted the importance of these awards, both in the field of creative innovation and the break with the traditional, "elements that they shape the spirit of the pioneers ", as well as the promotion of collaboration and interconnection," through the cooperation that generates synergies in the results of the companies "and the support for entrepreneurship.
In this line, he pointed out that Spain is a tremendously modern country, integrated in Europe and in the world, which requires generating business and shared value, as well as recognizing the work of entrepreneurs who are opening borders, and supporting them for the future of their job.
Call for Consultative Council and Sectoral Conference
After the closure and in statements to the media about the future great lines of work of the Ministry, Planas announced that it has convened next Thursday the Autonomous Communities for the holding of the Consultative Council, in order to adequately prepare the formal position on the Common Agricultural Policy that Spain is going to take to the Agriculture and Fisheries Council on Monday in Luxembourg.
In addition to the CAP negotiations, the Minister has highlighted, among the main lines to be developed in the future, the promotion of the agri-food sector, support for innovation and rural development, fisheries negotiations with third countries, particularly the one that is carrying out the European Union with Morocco and the application of the Common Fisheries Policy.
YOU MAY ALSO LIKE: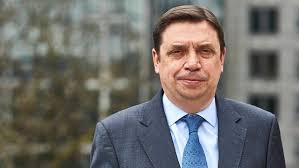 http://ecomercioagrario.com/wp-content/uploads/2018/06/luis-planas-1.jpg
666
1000
Redacción ECA
http://ecomercioagrario.com/wp-content/uploads/2015/09/logo1.png
Redacción ECA
2018-06-12 12:56:33
2018-06-12 12:56:33
Luis Planas closes the delivery of the 'Pascual Startup' awards