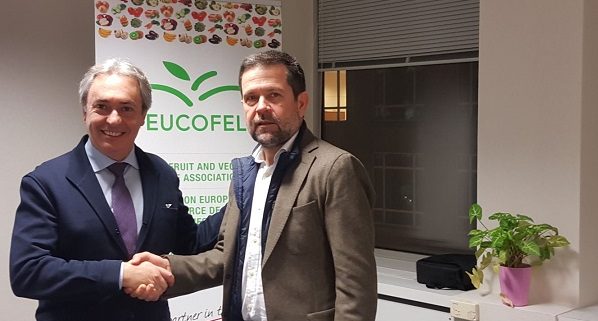 The candidate of FEPEX, Juan Marín, was elected last December 5th, in Brussels, president of the European Association of the Trade of Fruits and Vegetables of the EU, EUCOFEL, taking over from the current president of FEPEX, Jorge Brotons.
EUCOFEL has elected Polish Vice President Witold Boguta (President of the National Federation of Polish Producers and Exporters), the Greek George Frangistas (President of the National Federation of Producers and Exporters of Greece), French Laurent Bergé (President of the 
National Association of Organizations of Tomato and Cucumber Producers of France) and the Spanish Antonio Muñoz (INTERCITRUS and CGC).
Juan Marín is a renowned professional in the Spanish fruit and vegetable sector who has developed his career in both the productive and export sectors, being the director of Campo de Lorca, a leading company in the production and marketing of broccoli and cauliflower, and in the field 
sectorial.

Marín is president of the Association of Producers Exporters of Fruits and Vegetables of the Region of Murcia, Proexport and member of the Government Commission of FEPEX

Juan Marín
Juan Marín was elected as a candidate for president of EUCOFEL by FEPEX in the last Commission of Government of the Federation, and his candidacy was unanimously endorsed by the General Assembly of EUCOFEL on December 5th, with the support of the rest of the members of 
said Association, coming mainly from Germany, Spain, France, Greece, Italy, Poland and Portugal.
Juan Marín replaces Jorge Brotons Campillo, who has held the position since 2013, the date of the refoundation of EUCOFEL. "It is an honor to represent European horticultural producers" said Juan Marín after the election, adding that "from now on we will work together on the following objectives: the defense and improvement of the competitiveness of the production and export of fruit and vegetables, the defense of free competition in the Community internal market and the opening of markets in third countries".
The agenda of the new president of EUCOFEL began, on the day of his election, with two meetings with representatives of the European Parliament, in particular with the vice president, Ramón Luis Valcárcel, and with the vice president of the Committee on Agriculture, Clara Eugenia Aguilera. He will also hold a meeting with the General Director of Agriculture and Rural Development of the European Commission, Jerzy Bogda Plewa. In the meetings, which will also involve different heads of EUCOFEL, will address two of the issues of greatest concern to the sector, such as the specific regime of the fruit and vegetables sector within the future CAP and commercial policy.
Source: FEPEX