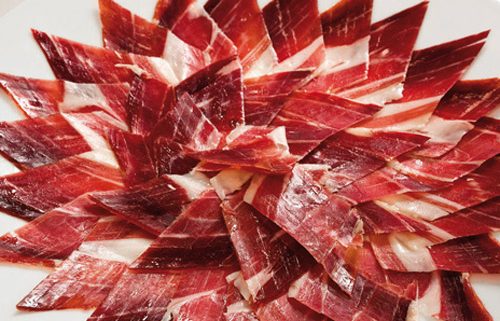 Within the promotional tour that the Interprofessional Association of Iberian Pig (ASICI) has been developing throughout Europe, in collaboration with the Ministry of Agriculture, Food and Environment (MAGRAMA), the Iberian hams of Spain will represent the highest quality in flavor in the London Queens tennis tournament (considered as the prelude to Wimbledon), held from 13 to 19 June. Rafa Nadal, the only Spanish player to win Queens (2008) and one of the seven players able to complete the double title-Wimbledon Queen's Club in the same year, is the image of this Spanish gourmet product for the European promotional campaign.
The privilege of preceding Wimbledon, Grand Slam which is held two weeks later in which is known as the "Cathedral of Tennis" allows Queens enjoy the presence of the world's leading figures in the world of the racket. It is a renowned tournament which will stage the select club of the Queen in London's West Kensington.
During the celebration of the championship, the more than 60,000 attendees to this sporting event will have the opportunity to taste the Iberian Hams of Spain, immaculately presented through the work of a professional cutter that will act as master of ceremonies, in a display installed in the Village, and the various lounges where this delicacy will be present during the tournament. London society will have all the neccesary to know and thoroughly enjoy the jewel par excellence of Spanish gastronomy, thanks to tastings and information materials distributed in parallel.
As part of the European tour ASICI and MAGRAMA to publicize the excellence of the Iberian Hams of Spain, other stages have been covered tennis tournaments Rome and Nice.
Coveted product in UK
UK and Spain have always maintained important trade relationships being the sale of meat products one of the most relevant. In 2014, 70% of Spanish exports to the UK were precisely of these kinds of products. These figures are achieved for several reasons: high quality of those products, adapting to British tastes, recognition of Spanish cuisine and chefs in the country, and the high knowledge of Spanish products through tourism. In 2014, Spain received a total of 15 million British tourists, representing 19% of its foreign tourism.
Source: ASICI

http://ecomercioagrario.com/wp-content/uploads/2016/06/jamon_ibérico.jpg
400
500
Redacción ECA
http://ecomercioagrario.com/wp-content/uploads/2015/09/logo1.png
Redacción ECA
2016-06-11 19:45:50
2016-06-11 19:45:50
Iberian ham delights in tennis tournaments in Europe