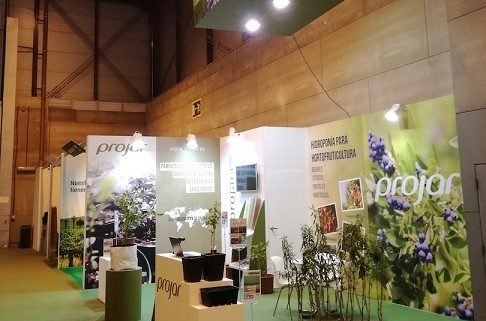 The green sector company, Grupo Projar, will present a new ecologically certified substrate for the production of red fruits such as cranberry in the framework of the International Fruit and Vegetable Fair, Fruit Attraction, held from 18th to 20th October in Madrid. With this new product opens the door, in this type of fruit, to consumers with interest in organic products.
This type of substrate is part of the hydroponic system in which the company has been working for five years and with which it is possible to produce red fruits in any country, regardless of its climate and soil conditions
In the stand of the Projar Group you will be able to see samples of the different types of substrates with which the company counts on producing these fruits, among which this latest novelty is located.
The hydroponic system achieves total control of many of the parameters of production such as nutrient, water or moisture supplies that affect equal calibres. In addition, the crop is produced independently of the soil conditions which allows to locate the plantation in any latitude or country.
The new substrate increases the production per unit area, especially in the first years of cultivation. This fact allows that the economic investment of the beginning is being very profitable for the farmer
For Grupo Projar's Communication Officer, Miriam Carretero, "the hydroponic system for berries is assuming a kind of revolution within this crop and is allowing growth above the expectations of farmers." Likewise, he emphasizes how "this year we hope that in the scene of Fruit Attraction there is a great influx of international visitors in our stand".
Advantageous hydroponic system in fruit trees
In addition to this novelty, the company will also have at its stand the Fruitponic system, developed together with the Valencian Institute of Agricultural Research – IVIA, which transfers the advantages of hydroponics to the world of fruit trees. This results in a reduction in irrigation needs of 30% in fruit trees such as persimmon, nectarine and citrus. In addition to an average increase in fruit weight of 5%, which produces an increase in the economic value of the fruit between 10 and 30%.
This system, which was presented in the last edition of the Fair to the INNOVA catwalk, incorporates pockets of cultivation with a special substrate towards which the roots of the fruit trees are directed and allows to improve their development in conditions of water shortage or low soil fertility.
In addition, it adapts to the growth of the roots, and in case of eliminating the bags, the tree does not suffer because it is not dependent on this substrate.
Source: Grupo Projar
YOU MIGHT ALSO LIKE:

http://ecomercioagrario.com/wp-content/uploads/2017/10/171014_-Stand-Projar_Fruit-Attraction.jpg
449
486
Redacción ECA
http://ecomercioagrario.com/wp-content/uploads/2015/09/logo1.png
Redacción ECA
2017-10-14 16:00:02
2017-10-15 00:34:34
Grupo Projar takes Fruit Attraction its new eco-certified substrate for red fruits