The FAO index records that food prices stood at an average value below its November with the fall in international prices of all foodstuffs, including meat, dairy products and cereals, except in the case of sugar and oils. The year 2015 ends with almost 19% decline in prices compared to 2014, representing the fourth consecutive annual decline.
The world economy decreases. Not only metal prices fall strongly fall and in the energy markets, but also food prices. The abundant world supply in the context of a shy global demand and the appreciation of the US dollar are the main reasons of general weakness that has dominated food prices in 2015, according to FAO, which provides the food price index, a measure of the monthly change in international prices of a basket of foodstuffs. It consists of the average of the price indices of five groups of commodities, weighted with the average export shares of each of the groups for 2002-2004.
Cereals
The FAO Cereal Price Index averaged 151.6 points in December, down almost 2 points (1.3 percent) from November. Expectation of larger supplies entering world markets following the removal of export taxes in Argentina weighed on wheat quotations. Maize prices also fell in December amid intensifying export competition and sluggish international demand. Rice quotations were more stable, as a revival of purchases sustained the prices of the lower quality Indica and of aromatic rice. Compared to 2014, the cereal price index shed 29 points, or 15.4 percent, in 2015.
Vegetable oils
The Index averaged 141.1 points in December, up 2.9 points (2.1 percent) from November. The increase was driven by soybean oil, the prices of which leaped to 6-months highs, reflecting persisting uncertainties regarding Brazil's soybean crop amid prospects of firming soyoil demand worldwide.  By contrast, international palm oil prices remained stable, as concerns about possible production declines in Southeast Asia were counterbalanced by weak global import demand. For 2015 as a whole, the Index averaged 147 points, down 19 percent from 2014 and representing a 9-year low.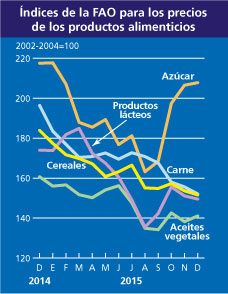 Dairy products
This FAO Index averaged 149.5 points in December, down 1.6 points (1.0 percent) from November.  The decline stemmed from a fall in prices for milk powders, as those for butter rose and those for cheese were unchanged.  Weak demand for WMP has led manufactures to focus on producing other dairy commodities.  Butter was the product most in demand, particularly in the Middle East, North America and North Africa, which boosted its price by over 3 percent in December.  In the EU, the possibility of sales of SMP to intervention stocks at a guaranteed price also increased the attractiveness of butter/SMP production over that of WMP.   The Dairy Index averaged 160.3 points in 2015, down 63.8 points or 28.5 percent compared to 2014, marking its lowest annual average since 2009.
Meat
In the case of meat, the index value of the most recent months stems from a combination of observed and expected prices for FAO. That averaged 152.1 points in December, down 3.5 points (2.2 percent) from its November revised value. Quotations fell for the four categories of meat, with ovine, bovine and pigmeat most affected.  Reduced import demand in the United States for bovine meat intensified competition in other markets.  For pigmeat, a surge in output in the European Union caused both domestic and export prices to fall.  For 2015 as a whole, the Meat Index averaged 168.4 points, down 29.9 points or 15.1 percent compared to 2014 (a record year), and its lowest annual average since 2010.
Sugar
The FAO Sugar Price Index averaged 207.8 points in December, up 1.3 points (0.6 percent) from November. International sugar prices continued to be influenced by concerns over harvesting delays in the South-Central producing regions in Brazil, caused by excessive precipitation. Prospects of reduced sugar harvests in other main producing countries, in particular India, Thailand, and South Africa, also provided support. Overall, the FAO Sugar Price Index in 2015 averaged 190.7 points, 21 percent lower than in 2014.
Source: FAO

http://ecomercioagrario.com/wp-content/uploads/2015/09/logo1.png
0
0
Redacción ECA
http://ecomercioagrario.com/wp-content/uploads/2015/09/logo1.png
Redacción ECA
2016-01-13 13:38:52
2016-01-13 17:48:58
Global food prices down for fourth consecutive year