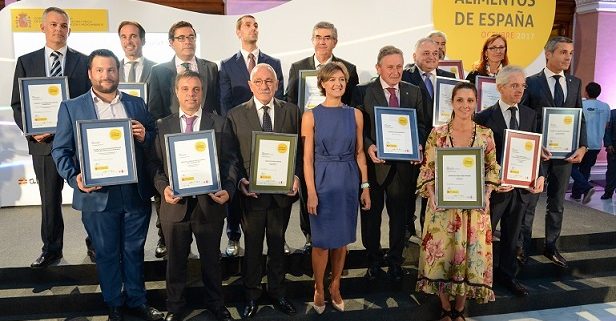 The Minister of Agriculture and Fisheries, Food and Environment, Isabel García Tejerina, has praised the role of food as an engine of economic, social and cultural development, during the presentation of the XXIX Food Awards of Spain, held Tuesday, October 3th, at the headquarters of the Ministry. To boost this value of the agri-food, Tejerina has advanced that the Government works in a new Strategy of Food of Spain, that takes into account the synergies that can be taken advantage of between the feeding and many other sectors, like the gastronomy, the tourism , culture, sport, education, the environment and health.
In her speech, the minister stressed the high quality of Spanish food, which has been demanded since ancient times in significant quantities and which continue to be applied worldwide, with export figures that record records every month.
In the mobile year ended in July this year, the value of our agri-food exports amounted to 49,159 million euros, almost 59% more than in 2011
In this way, Spain is the 4th exporting country of the EU and the 8th world, and is the absolute leader in olive oil, olives and wine. In addition, our country is located in the first places of fruits and vegetables and pork.
García Tejerina has put in value the increase in the number of products with differentiated quality in Spain, which has gone from having 43 Denominations of Origin in 1987 to the current 345 Denominations and Protected Geographical Indications and Traditional Specialties Guaranteed
As she pointed out, this quality translates to the way food is processed, which has made our gastronomy a reference all over the world. In addition, about nine and a half million tourists, out of the 75.3 million that arrived in Spain in 2016, did so for gastronomic reasons.
A professionalized sector
In her opinion, the success of Spanish food products throughout the world is the result of a great work of farmers, fishermen, fishermen, processors, distributors and restaurateurs. All of this has added, with the support of MAPAMA, that in the last five years it has promoted a large number of initiatives "to ensure excellence in food quality".
Among other measures, the minister has cited the implementation of the laws of the food chain, Appellations of Origin of supraautonomic and Defense of Food Quality, in addition to updating numerous standards of commercial quality of our food.
The Ministry is developing a Program for the Excellence of Food Quality, aimed at increasing the commitment of the operators with the quality, the improvement of their guarantee and the prestige of our foods in the different markets
Finally, the Minister congratulated all the winners and expressed her appreciation for her "excellent work". As she has pointed out, quality is the common denominator of award-winning products today. A quality that, together with respect for tradition, innovation and internationalization, are key characteristics of the Spanish companies that produce and elaborate them.
The prizes were awarded in the following order:
– Premium Foods from Spain Best Extra Virgin Olive Oil, 2016/2017 campaign
• Sweet Green Fruity
Oil mills of the Subbética. Carcabuey (Córdoba)
• Fruity Mature
Hacienda Queiles. Tudela (Navarra)
• Special Premium Best Extra Virgin Olive Oil 2016/2017
• Bitter Green Fruity Award
Venchipa. Açaí (Granada)
– Spain Food Prize to the Best Ham 2016
• Serrano Ham or other recognized quality figures
Ham Serrano Añejo Hembra. Nico Jamones (Ciudad Real)
• Iberian Bellota Ham
100% Iberian Bellota Ham – Encinares del Sur. DOP Los Pedroches. Dehesas Reunidas. Bélmez (Córdoba)
-Premium Foods from Spain to the Best Wine, 2017
Grans Muralles 2010. DOP Conca de Barberá, from Bodegas Torres. Vilafranca del Penedès (Barcelona)
–  Awards Food from Spain
Awards Food from Spain to the Restoration
Restaurant Cruz Blanca (Madrid)
Awards Food from Spain to the Ecological Production
Hafas of the Earth (Pontevedra)
Awards Food from Spain for the Production of Fisheries and Aquaculture
Fresh Food. Burriana (Castellón)
Accésit Food from Spain to the Entrepreneurial Initiative
Distilled and Cervezas de Extremadura CEREX. Zarza de Granadilla (Cáceres)
Awards Food from Spain to Food Internationalization
Cascajares. Gastronomic Industry Blanca Mencía. Dueñas (Palencia)
Awards Food from Spain of the Food Industry
Citrus Food Group. Ribarroja del Turia (Valencia)
Extraordinary Awards Food from Spain 2016
Ramón Artime
Source: MAPAMA

http://ecomercioagrario.com/wp-content/uploads/2017/10/171004_premiosalimentosdeespana.jpg
410
616
Redacción ECA
http://ecomercioagrario.com/wp-content/uploads/2015/09/logo1.png
Redacción ECA
2017-10-04 07:43:40
2017-10-04 10:26:19
García Tejerina praises the role of food as an engine of economic, social and cultural development