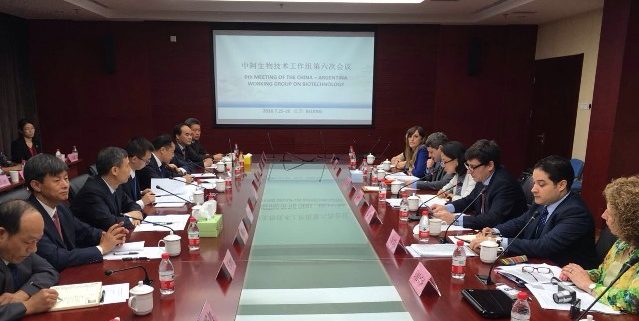 Argentina and China are working on cooperation in biotechnology. To this end, the Argentine Ministry of Agro Industry (Minagri) through the undersecretary of bioindustry, Mariano Lechardoy, has led a mission to the People's Republic of China to co-chair a meeting of the Working Group Chinese-Argentinian in Biotechnology, taking place until Thursday, July 28th.
At the sixth meeting of the Group, are addressing various issues in regulatory and commercial matters, for example approved biotech crops and changes in regulatory frameworks in both countries, regulatory challenges of new biotechnologies, as well as cooperation projects in the field of scientific dissemination and public perception.
In the words of deputy secretary Lechardoy "our country is focused to take a step further in agriculture, by adding value and the necessary process of bioindustrialización. In this sense, China is a key partner in biotechnology field, and the commitment we've demonstrated with this meeting allows us to project new partnerships and negotiations that directly impact trade. "
The agenda of this technical and scientific bilateral meeting regulatory cooperation includes a practical exercise joint assessment of a biotech crop. The case of a crop developed jointly by Argentinian INDEAR company and the China DBN will be used as a study. It is a soybean crop drought resistance combining herbicide resistance.
Significantly, it is the first time that two countries agree to undertake an exercise of this magnitude at the bilateral level. China is the largest buyer of soybeans worldwide and Argentina one of its main suppliers, both countries have sovereign regulatory frameworks and developed in the field of agricultural biotechnology. This unprecedented exercise of multidisciplinary cooperation deepens understanding and mutual trust in the field, thus paving the way for the introduction of new agricultural technologies while preserving bilateral trade.
The mission is also composed of the National Director of Biotechnology, Martin Lema, who leads the technical aspects of bilateral dialogue, and members of the Advisory Commission on Agricultural Biotechnology (CONABIA), including representatives of the National Seed Institute (INASE), the Service Agrifood health and Quality (SENASA), the national biotechnology company INDEAR, the Argentina Chamber of biotechnology (CAB) and the Argentine Seed Association (ASA).
Source: Minagri

http://ecomercioagrario.com/wp-content/uploads/2016/07/grupo-chino-argentino-en-biotecnología.jpg
326
639
Redacción ECA
http://ecomercioagrario.com/wp-content/uploads/2015/09/logo1.png
Redacción ECA
2016-07-27 13:00:59
2016-07-27 13:56:09
Argentina and China cooperate in biotechnology